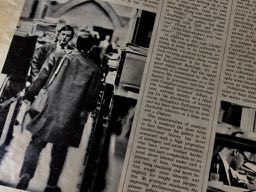 Don Newlands was an outstanding photojournalist of the era and his work is still available through KlixPix.com photo agency. But when he took this photo for a 1965 piece by June Callwood on the Parliamentary Press Gallery, Newlands had no idea who I was. I had been on the Hill for all of two months. The photo caption identified John Houston of Broadcast News "(back to camera.)" Lower right, that's another Gallery newbie, Linden MacIntyre.
I always remember Feb. 15. It is the day the maple leaf flag went up for the first time on the Peace Tower — and the day I started work on Parliament Hill in 1965. Our office in an alcove off a corridor adjacent to the main room of the press gallery was one trash can short of a slum. It was a scene out of Front Page . But the intimacy of our corridor hovel allowed us to rub shoulders with some fascinating journalists, from the bottom in the photo: Peter Stursberg, Jean-Pierre Fournier, Jean Charpentier (by a nose behind the coat rack) and, standing right, Lubor Zink. Our 'press box' in the House was just 100 paces down the corridor through the archway. All of us, ministers, MPs, aides and reporters worked in the same building.The proximity encouraged the flow of information — and a degree of civility and camaraderie often missing today.
John S. Willison
 (Nov. 9, 1856-May 27, 1927)
When he was editor of the Globe and Mail, John Willison was a loyal supporter of Liberal Prime Minister Wilfrid Laurier, going so far at one point to hold back a story that would have embarrassed the Liberal leader before the 1891 election. They had become friends after Willison went to the Parliamentary Press Gallery in 1886 and was taken by the soaring oratory of Laurier in opposing the hanging of Riel. But in 1911, after Canada signed a sweeping free trade deal with the United States, Willison deserted Laurier. From his new post as editor of the Evening News in Toronto, he led the attack on the reciprocity agreement and the elimination of protective tariffs. Facing a Commons filibuster, Laurier called an election to clear the air. Willison wrote Borden's party platform. The Tories won the election — and the new Prime Minister bestowed a knighthood on Willison.