The Greatest Hockey Series
In the summer of 1972
Time
magazine assigned me, the Toronto bureau chief, to cover an eight-game hockey series between a select team of NHL stars and the best players of the Soviet Union—four games in four Canadian cities and four in Moscow. Much ink and celluloid has been spilled in the recounting of that historic September confrontation, especially including a goal by Canada's Paul Henderson with 34 seconds left in game eight that allowed Canada to claim victory in the series. For a nation that invented hockey but had not won Olympic gold for 20 years, the victory was sweet, and vindicated a withdrawal from international hockey in the 1970s because our pros were not allowed to play. Some commentators later actually elevated the occasion to a turning point in Canadian history. But it was a Pyrrhic victory. Far from the sweep that the North American hockey world had predicted, the Russians won three games, tied one and outscored Canada 32-31. Their superior conditioning and exciting playmaking proved that you didn't have to be Canadian to excel at hockey. It was a shock. It also turned into an extension of the Cold War on ice, with both sides seeing it as a clash between two systems, two ways of life. As the fiftieth anniversary of the Summit Series approached in September 2020, Vladimir Putin invaded the independent democracy of Ukraine and, as I write, was on his way to demolishing the country for his own perverted ends.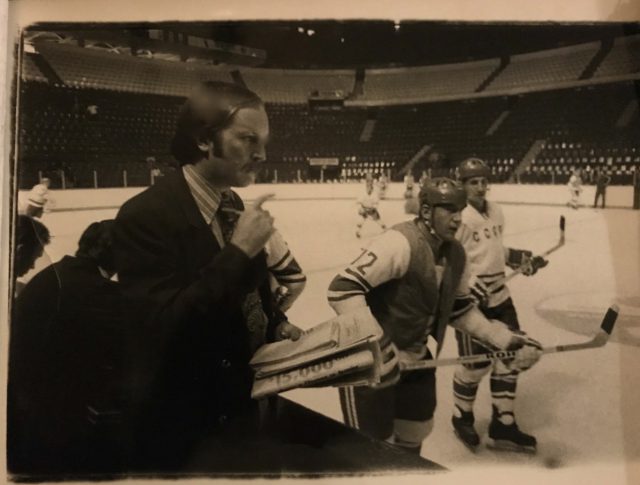 The war coincided with plans afoot to commemorate the Summit Series in books and documentaries, including my own modest effort to review commemorative books for the
LRC, Canada's leading literary periodical.
All of that caused me to return to the Clara Thomas archives at York University, which houses my journalistic files, to dig out my original
Time
reporting. It is all there, from the first revealing skate by the Soviets at the Forum in Montreal to interviews with key players and observers, including Ken Dryden, Vladislav Tretiak, Harry Sinden—even media guru Marshall McLuhan on the meaning of it all. And, of course, the magic goal.

 

Many gems in the vast file of material did not make it into the magazine because of space limitations and the peculiar
TIME
system of the day where writers in Montreal or New York wrote and correspondents in the field filed extensive reports.
 Here for the first time, then, is everything that I saw and heard — and some things that I didn't —in a consolidated version, as I wrote it.
-0-
August 30, 1972
The Background — (Filing from Toronto
)
It is, of course, a classic sports meeting. Two different systems of ice hockey are on trial: the methodical team approach of the Soviet state, with the emphasis on the 'total athlete'; and the innovative style of the Canadians, orchestrated by the NHL and American capitalism. Al Eagleson, the brash impresario of the Summit, has vowed that Canada will win all eight games. Accordingly, Canada must take them all. The Russians have nothing to lose, especially during the first four games in Canada.
Pravda
says it's nonsense to suggest that there's anything Canadian about the NHL. The league, says
Pravda
, is American because it costs $6 million to buy in and "only American businessmen can afford that kind of money." Canadians, of course, just look at the birth places and they know: Flin Flon and Timmins and Drummondville and Sydney. So beneath it all, it's an ideological battle. Harry Sinden talks about it as a virtual contest in lifestyles. The Russians regard the match as only a detour from the one, true 'amateur' way. For Stan Mikita, who fled Czechoslovakia at eight years of age, it's "almost like the whole free world versus them." Ever since the mid 1950s when the Canadian hegemony in international hockey started to crack, Canadians have been frustrated by our inability to use the best from a country against European competition. As their techniques improved, the inferiority of our amateurs and junior pros became all the more evident and galling. And just how deep rooted the anger runs is revealed in a survey by Martin Goldfarb Associates commissioned by the federal government through Hockey Canada. The survey indicates overwhelming support for the decision to withdraw from international 'shamature' championships staged by Bunny Ahearn of the International Ice Hockey Federation. [He and his IIHF will serve as the heavy in this narrative]. And one of the central themes of the survey was: if we can't play our best, why bother? Only through an intense round of international politics, top level diplomacy and back room dealing, was Canada able to direct an end run around the powerful Ahearn and to arrange the Canada-USSR matches. Only through the most intense brand of domestic politics, often pitting Grit against Tory, were the details hammered out. In an interview [not used by
TIME
] Marshall McLuhan noted that sport and politics have wed — and hockey Canada is exhibit A. The media prophet points to "the ping-pong-ding-ding-Peking" [table tennis matches], the Fischer-Spassky chess summit [which the American won] and now the U.S.S.R. hockey series as a pattern. McLuhan submits that the link between politics and sport is essential in the electronic age. People can't take their politicians, or their politics, straight anymore. "Politics," McLuhan theorizes, "must now be indirect, not direct, because that's the only way to cool them." Adds McLuhan: "We are getting a cool form of international politics on the game front. The heat is syphoned off through audience participation. In politics, the audience doesn't get a chance to participate: the ballot box does not really permit participation. That's where sports have this tremendous power of catharsis. Sports also happen to be a very aggressive and destructive form of expression that is also very congenial to political life. But it's cooled-off warfare. It's warfare under wraps. It may be the only kind permissible from now on. The Olympics, of course, are all politics. We're going to discover the Soviets and others, with their entirely professional set ups in sports, are going to be irresistible. And so are we're going to imitate them."
Doug Fisher
, the former MP and an architect of the series who later chaired Hockey Canada, was speculating the other day along similar lines. "Guys like [NHL owner] Jack Kent Cooke will see the potential of all of this," he muses. "They'll be into it very quickly in the United States. " [Before his death in 2009, Fisher recorded his own extension account [not yet posted] of his involvement in the negotiations that led to the series].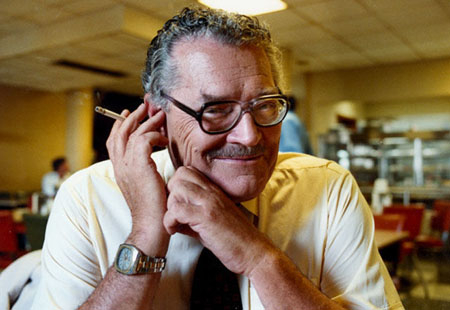 Doug Fisher, architect of the Canada-Russia series The Trudeau government is not unaware either of the benefits of association with Hockey Canada and the selects. As far back as June 3, 1968 Prime Minister Pierre Trudeau told an election campaign meeting in British Columbia's Selkirk College that he intended to launch a wholesale review of sport in Canada. And when
Harold Rae, the task force chair credited with coming up with the Series idea
, champion skier Nancy Green and Montreal lawyer Paul Wintle Desuisseaux were named to the study, Trudeau reflected the thoughts of many Canadians when he said: "Hockey is considered our national sport. Yet in the world of hockey championships, we have not been able as amateurs to perform as well as we know we can." John Munro, Trudeau's minister of sport, effectively orchestrated the birth of Hockey Canada and recruited Fisher to the cause. In more recent times, activity on behalf of Trudeau indicates he's cribbing from McLuhan. Bargaining went on about the Prime Minister's appearances at the Montreal and Toronto games. Clearly he wants a cool ride on hockey Canada's coattails. Prime ministerial operatives are seeking to escalate the Saturday night puck dropping ceremonies in the Montreal forum into a full-blown production. The PM, for example, [according to Art Harnett, president of media rights holder T.C. Productions] wants to do French and English interviews between the first and second periods. In Toronto, Gardens officials were sent scurrying this week with the news that the Prime Ministerial party would require 50 seats for next Monday's game. The PMs staff also insisted on moving the official party from behind the Gardens' penalty box to seats behind the players benches which, wonder of wonders, just happened to face the television cameras. Trudeau was also holding out for a starring role in the Toronto puck dropping ceremony which all those good Tories in Toronto felt was a part that should be played by Ontario premier Bill Davis.
Personal politics is a vital component to the series. Harold Ballard, for example, who awaits sentencing on fraud charges, has wrapped himself in a mantle of national pride. He gave team Canada free use of Maple leaf Gardens for the three week training camp and is spending his own money just to turn the TV lights on in his rink for practice sessions [the heat clears the fog that tends to hang over the ice in the current steamy weather]. Ballard has also seen to it that all announcements made during the Toronto game and during the three inter-squad matches are bilingual. "Ballard," notes one hockey regular, "can't afford bad publicity at a time like this. " But nowhere were the steaks higher, and the intrigue more sophisticated, than in the international arena of world hockey. Not long after Hockey Canada was formed in 1969, a Canadian delegation travelled to an IIHF meeting in Cranz in June. Hockey Canada proposed an "open" competition between the best of Europe and a Canadian team using 12 pros. In the end, Canada had to settle for nine non-NHL players among the pros. The Winnipeg-based national team thus entered a
tournament in Leningrad, bolstered by pros,
 and became the first Canadian squad to win against the Russians since the Trail Smoke Eaters won the World Championship in 1961. A couple of months later, Canada took second place in the Isvestia tournament. In January 1970, however, Bunny Ahearn's antipathy to Canada's hockey policy prevailed at an IIHF meeting in Geneva. The league decided that five European clubs scheduled to play in the world championships in Canada in 1970 would not participate because of the new ground rules allowing Canadian pros. Canada replied that unless it could play some professionals, it would not participate either. But Canada did offer to stage an exhibition tournament, using some professionals. When that was rejected, Canada felt it had no course but to withdraw from international play. The Canadian delegation, in fact, had already agreed before leaving for the Geneva meeting that if the IIHF proposed to ban the use of pros by Canada, Canada would quit. Despite the withdrawal, oil man and Hockey Canada President Charles Hay was back in Stockholm in March for the IIHF meeting. "I was just there sticking my nose in," he smiles. But he also had a firm proposal: an "unrestricted" series of exhibition games involving Canada, Sweden, Finland and others. The IIHF rejected the offer. Back home in the summer of 1970, Hockey Canada took what proved to be an historic and important step: it formed an IIHF negotiating committee, chaired by Doug Fisher and including the CAHA, which was really the only official link that Canada had to the world hockey body. The Canadian committee, as it eventually turned out, provided the respectability the Russians needed before they could agree to the current series. They did not, in short, want to bypass Ahearn and his IIHF. It was then-Toronto Leaf president Stafford Smith who suggested that Canada challenge members of the IIHF 'A Pool' of top teams in a round-robin tournament in Canada. There was a positive reaction to that suggestion, but the Europeans expressed confusion about which teams they could send to play. In December 1970, with the impasse continuing, Hay and Gordon Jukes of the CAHA went to Moscow for the Isvestia tournament in which the Canadian national team placed second. They pursued their challenge to Russia, Sweden and Czechoslovakia to come to Canada for a round robin tournament. By that time some important groundwork had already been laid in Canada for the series: the hockey Canada board, NHL President Clarence Campbell and Eagleson agreed that if hockey Canada could produce an open, international round robin, the players' association of the NHL would cooperate.
In March 1971, the Canadian proposal went before and IIHF meeting in Geneva. Only Sweden and Russia were interested in the exhibition, it became clear. But the IIHF, which was by now in the thick of negotiating the Canadian proposal, countered with a three-pronged response. Because the IIHF wanted to avoid a single round robin with Canadian pros, they proposed a return trip to Russia by the Canadian pros; a Canadian entry in the 'B Pool' of the IIHF championships —
a division normally reserved for such hockey powers as Japan, the Sudan and New Zealand; and a tour of Russia by a Canadian amateur team. Clearly Canada could not accept such an affront. Never before had Canada been relegated to the 'B Pool'. But as Charlie Hay notes about Ahearn's gambit: "He wanted to bring us to our knees. Our scheme was an erosion of his position." Canada rejected the counter offer. Later in May 1970, Ahearn visited Canada, trotting out his 'Olympic purity' bugaboo and being generally unpleasant about Canada's role in hockey. Despite his public displays of uncouth, Hay stoically entertained Ahearn.
One veteran hockey insider quipped: "If there is one thing that Ahearn admires, it is money." And here, dealing with the former president of Gulf Oil in Canada, Ahearn must have realized he had found a worthy opponent in Hay, the father of former Chicago star Red Hay. Next came the winter Olympics and, as Hay puts it, "another political labyrinth." The IIHF ruled that unless Canada entered the world hockey tournament in Berne, it could not play in Olympic hockey in Japan in 1972. Canada refused to bite. But the Japanese wanted Canadian hockey players at the Olympic games. An invitation was extended and Ahearn, apparently realizing he was about to be had, said he could approve the invitation. Again, however, Canada said no. "It wouldn't really have settled our objective to get a top team to play the Russians," Hay explains. Naturally the decision not to send a hockey team to the 1972 Olympics produced anger in Canada. But for Canada to have entered either the 1972 world championships or the Sapporo games would have amounted to a negation of its earlier posture — withdrawal until we can play our best. Canada then formed a select committee which included Hay, Lou Lafaivre, head of Sport Canada, and Joe Kryczka, a Russian-speaking lawyer who was president of the CAHA [Canada's formal connection to the IIHF]. That is an important connection to the Russians since they are firmly committed to retaining their standing in international hockey and the CAHA's links to the IIHF
enable them to accomplish that. At the same time there was full and close contact between Hockey Canada and Canada's External Affairs department. Canada's Ambassador Robert Ford in Moscow, and other emissaries in Europe, beat the drums on behalf of the round robin tournament Canada wanted to host. Ford, or his agents, also leaked word that a one-on-one series with the Soviets was a possibility. The Soviet response was one of enthusiasm. [A key man in there mix was Canadian diplomat Gary Smith who first learned of the Soviet interests while reading a sports column in
Pravda
. That story forms part of the book he published in spring 2020 called
Ice War Diplomat
. Smith travelled with the Soviet team in Canada and was an indispensable link here and in Moscow between Canadian and Russian players, officials and press, including this reporter]. In March 1972 in Prague the culmination of months of negotiations produced an inconspicuous-looking agreement, single-spaced over a page-and-a-half with no letterhead. The headline: "Unrestricted tournament." The document described four games here and four games there. The final talks had taken only ten days. [For more on the history of Canada's participation in International hockey, including the years when we dominated, see Appendix I).
August 31
The Teams — (Filing from Montreal
) Professional hockey is machismo. The forms that scouts carry with them into the hinterlands have boxes for rating a prospect's willingness to defend himself (sometimes called "guts"). Off the ice players and coaches sometimes startle cabdrivers and bellboys with sharp orders that are no more aggressive than their lifestyle on the ice, but which are offensive to the untrained ear. In hockey, notice, you "get up" for the big game. Women's role in organized hockey is virtually nil. Yet women serve as window dressing at training camps, and lobbies – and in not a few NHL hotel bedrooms. The Canadian selects seem driven by the same macho-macho. While they pay lip service to "representing Canada" in this series, you sense that they are really here to prove themselves with the class of their profession and to preserve the honour of the National Hockey League. In 
perhaps a dozen casual conversations with players, rarely 
did they volunteer national pride as their first motivation. Says articulate Canadian goaler Ken Dryden, who will probably start the Montreal game Saturday, "we'll have the same feelings of team and personal pride. The immediate motivation is to play well and win." The Russians, in contrast, say they are here primarily to learn. "What we've got to do is make the most of this series," said one Soviet official on arrival in Montreal last night (August 30). As for the Canadian selects, they have to win. About 22 million Canadians, as Coach Harry Sinden notes are "absolutely demanding it." While several players reckon the tension will be no greater than the final game of the NHL playoffs, Sinden and Dryden disagree. "You'll be remembered for a year for beating Russia," says Sinden. "You'll be remembered for the rest of your goddamn life if you lose. That's pressure, baby." Adds a Dryden, who played against the Russians for Canada's national team, "even if you're not a patriot or a nationalist of any kind, the whole pageantry of the thing is such that you can't help getting emotionally involved."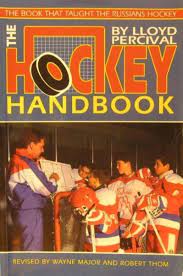 Lloyd Percival, one of Canada's top hockey tacticians and director of Toronto's Fitness Institute (which specializes in training programs for professional athletes) warns that the Canadian pros may not be prepared for the tension surrounding this series. "No athletes carry the emotional load that team Canada will," Percival told us. "The reputation of the NHL is at stake. If we don't win eight straight, it will be a moral victory for them. I'm concerned we'll be over-emotional. We might be too tight, press too hard and start taking penalties." In Percival's lingo, the danger is that Canadian players could become "over–activated." In rating and weighing the various facets of the two teams, Percival gives Canada an overall five-point edge and predicts we'll win the series on the basis of great individual offensive abilities and superior goaltending. The Russians are expected to base their strategy on attack. They will start off at a fast pace and, unlike the NHL style, attempt to keep it at the tempo throughout the game. Since the Russians are given the edge in conditioning, this could be important if they can keep the puck. In international play the Russians have little difficulty sustaining the brisk play: they usually have the puck 70% of the game. Against the Canadian pros, however, they may find that can't be done. For the first time in their history, perhaps, the Russians will experience that uncomfortable sensation of defending in their own end against a sustained, two- to three-minute attack. In international play their opponents have generally managed to take only one shot, with the Russians breaking out of their end of the rink immediately. The Russian attack will also cause the NHlers complications. The pros tend to play positional hockey on defence, with each man patrolling his "lane" of the ice to pick up his check. But the Soviets don't skate such predictable offensive patterns. The right winger, say, might lead an attack on the left side, with the centreman trailing behind him. On defense, however, the Russians are expected to play a kind of zone. "They aren't going to be out there playing man-for-man," predicts Percival. Another difference in the two styles is passing. NHL players tend to pass to an open man; the Russians will pass to get a man open. Since the Canadian selects include so many class players who tend to make the game look pretty, there may be a tendency for Canada to pass instead of shoot. This is one of the points on which Sinden has been most critical during the three week-training camp. After Saturday nights intra-squad game, for example, Sinden moaned: "Two or three times we dropped the puck when we should have shot. It was laziness. They should have headed for the goal." In more detail, here is a look at the two teams, their coaches, players, methods:
The Russians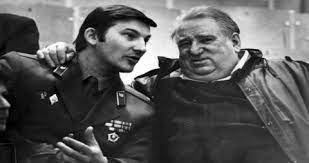 A majority of the Russian selects played for the central Army team. Like most senior players in the Soviet union, the selects started training with their respective clubs in July. Several weeks before they actually take to the ice, the Russians launch a vigourous program to train the complete athlete. Under the "Tarasov plan" (named after
the modern father of Soviet hockey, Anatoly Tarasov
), they play soccer (NHL contracts bar contact sports in the summer), lift weights to build bodies (the NHLers concentrate on drills to improve wind and legs) and work out on the trampoline. On August 21 the Russian selects gathered as a team. They had already played in two tournaments with their own clubs. With so many players from the central Army team and another top line (Yakushev-Shadrin-Zimin) from the Spartak club, the Soviet players didn't have to worry about adjusting to unfamiliar styles. (The Canadian team, on the other hand, claims only one complete line from one team: Hadfield-Ratelle-Gilbert; and two-thirds of another line: Ellis and Henderson of the Leafs). A tentative list of the Soviet roster provides outsiders with another revealing glimpse of the kind of confidence this team should have: many of them are veteran international champions, often with three world championships and two Olympic victories behind them. As Sinden warned his players this week: "It's not going to be a howdy-doody time against the Russians – no way." Ken Dryden knows that from personal experience: after meeting the Russians in Stockholm when Canada's National Team last appeared in the world championships, Dryden was back in the nets in Vancouver to face the returning Russians in 1969. "They completely control the puck," he recalls. "The only times the Russians didn't have the puck was when the referee was carrying it back to centre right after they scored." Dryden concedes that comparisons are difficult, since Russian and Canadian pros have yet to play common opponents, or each other. He does look for more passing from the Russians than in the NHL. "They pass more, we shoot more, and harder. You have to adjust since you don't get as many shots." In 1968 another member of the Canada selects, defenceman Brian Glennie, was in Grenoble where he played the Soviets in the Olympics. "Many of the Russians," he notes, "have been mates for 8 to 10 years. That means they function well as a unit. They are strong in the most basic skills of the game and they'll be in good condition." Glennie also notes that the Russian players attempt to goad opponents. "They are very chippy with their sticks. They take cheap shots." Says John Ferguson, the assistant coach: "They give you that little jam and run." When a reporter told Sinden about claims that the Russians sometimes spit on opponents skating by, Sinden was horrified: "Could you just see that. "Maybe we could present them with gold spittoons after it's over." The real danger, of course, is that Russian goading of some kind may draw reflexive retaliation from the NHL stars — and very quick penalties. Fighting, for example, means a player is thrown out of the game. [See playing under different rules-Appendix II]. Obviously the Soviets will try to lure Canadians into stupid penalties, another reason the tension may work against Canada. One widely held  misconception is that the Russians can be intimidated by hard body checking. That is not a view shared by most of the Canadian team. "They are very strong and you can't intimidate them," says Glennie. Instead of intimidation tactics, Glennie advises a solid, physical approach — again, a thin line in a tension-packed series where the international officiating will favour the Soviets. The Russians, clearly, will avoid fights. "If they want to fight," said imperial Arkadi Cherneschev, one of two Russian scouts in Canada watching the Canadian training camp, "we'll do it later in the gym."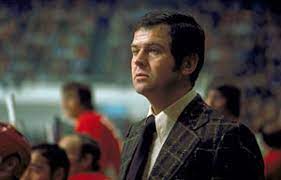 Harry Sinden, who played in Oslo for the Whitby Dunlops when they won the World Championships in 1958, also has some personal experience with Soviet hockey. He also faced the Russians during their first Canadian visit. "The main difference in their play," he comments, "is the same kind of difference between their way of life and ours. They are a disciplined society and they play disciplined hockey." When Phil Esposito was asked why NHL pros tend to sleep late, drink beer and smoke cigarettes, he quipped: "That's their problem if they want to get up at 6 AM and run around the hotel." Since there are only four Canadian selects (Sinden, Dryden, Glennie and defenceman Rod Seiling of New York) with personal experience playing against the Russians, Sinden planned late this week to start going over film of Russian games with his charges. But, he notes, Canada can watch all of the films available and it still won't be as instructive as the actual meeting of Canadian and Russian on ice. "We won't know what we want to know about the Russians until we play them," says Harry. "Not until we're up close in the corners while we see their strength and attitudes."
-0-
The scouting mission by Leaf coach John McClellan and scout Bob Davidson, in sharp contrast to the visit in Canada by the two industrious Russian 'spies', amounted to a little more than a goodwill tour. The Canadian 'spies' were only in Moscow four days and saw only two games: Spartak versus the Central Army team in Leningrad and an inter-squad game involving the Soviet selects. Spartak beat the Army team 5-2. Davidson was impressed by the way the Russians pass the puck.  "They really play together as a team,"  he notes. "They rarely go offside. They're in good shape." Players that stood out in the brief look Davidson got were Shadrin, Yakushev and Zimin. Centreman Shadrin impressed Davidson with his forechecking; Zimin, a short, stocky right- winger, will have to be watched: he has a tendency to hang near the centre ice line, à la Yvon Cournoyer, waiting for a breakaway pass from his own end. Yakushev was outstanding in the two games. He is a good skater and puck handler. "He seemed to be dangerous whenever he had the park," says Davidson. Forward Maltsev with another player who impressed with his skating and puck handling.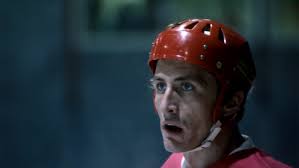 One problem the Russians may have is in the net. They have already lost their number two goaler,  Vladimir Shepevalov because of a pre-series injury. The starting goaler, Tretiak, is long and lean. Typically, for Russia, he uses his legs and is a flopper, rather than a positional player. The suspicion is that he can be beaten on blistering drives from 30–40 feet out. [That subsequently proved to be incorrect. Tretiak played all eight games and was a star of the series. It turned out that the Canadian scouts happened to see Tretiak play poorly the day after a prenuptial carousing with his mates]. Sinden ranks Valeri Kharmarlov as the team's scoring star. He's a good puck handler and, because of his small size, resembles Team Eagleson's Gilbert Perreault. Veteran Anatoli Firsov, apparently, was injured recently and is not expected to play in the games in Canada.
The Canadians
Never has a finer group of hockey players been assembled anywhere in the world for one team. There are 37 in all, ranging from the obvious stars to the journeymen known mainly to insiders. Ironically the two most obvious starters – the Bobby's Orr and Hull – won't be in the lineups (at least Orr won't play in Canada). It was June 1 when Harry Sinden first started putting it all together. That was the day Al Eagleson, in his capacity as impresario of the first international Eagleson tournament, offered Harry the coaching job. Working in Sinden's favour is his past Olympic experience and his reputation (he coached the Bruins to the Stanley Cup in 1970) as one of the NHL's new breed of mentors. "Sinden has a modern hockey mind," says Lloyd Percival Percival. "He's not the traditionalist that so many coaches are. He's proven he can handle stars." A week after his selection, Sinden turned to John Ferguson as his assistant. Fergy, along with Jean Beliveau, was a driving force behind the Montreal Canadiens in recent seasons. Like Sinden, he was not attached at the time to any NHL club. (Sinden was working with a modular housing company in Rochester, NY, which is about to go under and Fergy is prospering with a Montreal clothing manufacturer). By July 12, Sinden had picked his last player (although five of the originals, including Hull, turned up in the rival WHA and were barred at he insistence of the NHL). "The first dozen or so players," notes Harry, "more or less picked themselves. Any armchair hockey coach from Victoria to St. John's could tell you who they are. The last few were the hardest, not because it's impossible to find 35 world-class players in Canada, but because it isn't." The key, once stars like Esposito, Cournoyer and Hadfield were named, was balance. Sinden chose for specific situations: for the clutch face-offs there is, for example, Stan Mikita—a late replacement for WHA-bound Derek Sanderson. For versatility there are Wayne Cashman and Jean-Paul Parisee: they can play right or left wing and, while neither is a scoring star, they are solid in the corners. There are shot-makers like Brad Park and the shot-blockers like Don Awrey. There is the finesse of Phil Esposito, Jean Ratelle, Bill Goldsworthy and Frank Mahavolich to go with the workmanship of Parise and Ron Ellis (one of the most consistent performers in. the camp so far) and Peter Mahavoilich. In goal, what can you say about Ken Dryden, about to start his second year as Montreal's starting netminder, Tony Esposito and Eddie Johnston? Dryden will probably start the first game, because his because of his previous International experience and because Montreal is home. Esposito has actually looked sharper in the training camp. Teamed with Johnston, Dryden and Esposito hold one of the keys to the expected Canadian victory. Only when the plane moves to Europe, and the circular gold creases, will the Canadian goalies face a major adjustment: Esposito, particularly, likes to use the rectangular North American crease for establishing the proper defensive angles on shots. The team arrived in camp in amazingly good condition. Most of the players were on notice about their possible selection. Because many are involved with hockey schools, and others took part in vigorous training programs (Henderson, for example, enrolled at the Percival school), there was probably less flab than at the routine NHL training camp. Because these athletes are best in the world at their trade, Sinden had little difficulty with motivation. For just about every day now for three weeks, he has sent his men through twice-daily skating sessions, scrimmages and drills. Exercise sessions preceded each morning practice and Sinden altered the pace with three intra-squad games, a Sunday golf outing and the occasional once-a-day work out. Says Ken Dryden: "It's the best camp I've ever been to. You have 35 of the best players on the same ice surface. They have pride in their ability. You're literally forced into working hard. These people are just too good, day-to-day, to have it any other way." Sinden's prime concern as the camp opened was conditioning. He worked hard on toughening up thigh and leg muscles. There were, as a result, very few of the customary early-season groin pulls. In fact, Sinden let more players off from occasional practices to return home on business then there were people missing because of serious injuries. Says Percival of Sinden's squad: "It's the greatest collection of hockey players we've ever had in one place. Potentially it's the greatest team ever." The biggest question mark, as we've noted, Is whether they can maintain their poise and prevent the Russians from setting the game tempo throughout. Sinden is anxiously awaiting the first game, which the experts view as the most important one. "We'll have to see in that first game whether we are going to be able to play regular shifts. (Sinden may have to use shorter shifts to offset the Soviets conditioning advantage). If we let the pace slow down, we could be in trouble," says Sinden. And another question mark Involves the kind of physical game Canadian pros normally play. So far there has been very little single 'hitting' by the Canucks. "People who are new teammates," explains Sinden, "don't want flareups in the early part of the camp." Adds Fergy: "They are just teammates right now. They are playing for Canada." But against the Russians, the pros are expected to start throwing their weight around. "There's no way you can play this game without hitting," opined Fergy with a gleam in his eye. "You can't play this game without being mad. I'm sure we're going to be hitting the Russians." "I'm very concerned about the officiating," says Sinden earnestly. "The kinds of things we do , like slamming guys into the boards, are not allowed in  international play."
The Brothers Impassivov
Each day they sat in seats at Maple leaf Gardens, flanking their interpreter, filling their notebooks with numbers, names and even diagrams of routine skating drills. When John Munro, minister of sport, sent word during one session that he wanted to meet with them, the reply was: "Wait 'till practice is over. We don't want to miss anything." Such industry, of course, has made the Soviet Union the world hockey power it is today. As Arkadi Cherneschev, the tall, suave hockey scout, and Boris Kulagin, the stocky, stoic assistant coach of the Soviet selects, would tell you, such eagerness to learn as much as they can about  NHL hockey is routine. Even when the players weren't skating on ice, Arkadi and Boris — dubbed the "Brothers Impassivov" because of the dearth of useful information they imparted — were asking questions: "Who is Eagleson?" Lewis: "He is number one. This is his show." Kulagin (smiling and making another entry in his notes book): "Who is Bob Haggart?" (Eagleson's assistant and administer for Team Canada." When the Brothers Impassivov visited with Lloyd Percival, they claimed to be impressed with Sinden's conditioning methods, but they couldn't understand why the pros were allowed to smoke and drink beer. "I'm sure," Sinden laughed, "they think our morning exercise program is a joke." They probably did, but Boris and Arkadi weren't saying. In typical Soviet style every invitation produced some bargaining. When they were invited to watch a soccer game in Hamilton, they countered with a request to watch a professional football practice. When they were invited to an Argo game, they indicated a preference for the team's practice. The Soviets, you see, have a concept of "athleticism". What goes on in practice is just as important as results in the stadium. Clearly Boris and Arkadi were trying to measure Canadian sport from this perspective. Perhaps the only occasion when the Russians went unrewarded was their visit to a Toronto theatre to watch Marlon Brando in The Godfather (they also saw The New Centurions). Explained Del Olah, a peanut butter maker from Toronto who served as interpreter: "They didn't understand what was going on. They said that there's no Mafia in the USSR. After three hours of translating, all I had was a headache." When Sinden hosted a cocktail party for the two Russians, Cherneschev graciously acknowledged: "We don't want to conceal the fact that we like Canadian hockey." But he added protectively: "The result doesn't matter, as long as it brings about greater understanding between the two countries." Throughout, the Soviets have squelched speculation that a Russian team might someday soon end up in the NHL. The Soviets are intent on preserving their international status. Said Cherneschev: "We don't see any need to enter the pro leagues because our own hockey is developing well." Would a Canadian rout force an evaluation of the Russian program? "It would cause us to make corrections," replied Cherneschev. Then, smiling broadly, he asked: "If the Canadian team is beaten badly, would Canada go back to amateur play?" All the fancy footwork doesn't conceal the fact that the Russians have always gone about hockey at their own speed (just as they try to do on the ice). They stayed away from international competition until they knew they could win. The suspicion is that when they determine that they are in the NHL class, they will be more approachable.
---
August 31
A First Look — (Filing from Montreal)
Those Russians certainly can skate. For more than an hour this morning at the Forum, the Russians roared up and down the ice. Without bothering to warm up, as our pros do, the Soviets moved right into end-to-end rashes: sometimes two on one, sometimes four on three, even six on two. Basically that's all they did the entire practice, except for a few minutes of stops and starts. The skating wizardry is all the more amazing given the Russian hockey equipment. The skates are a rag-tag assortment, many decaying CCM models from Canada. A Lang skate rep. attending the workout said he spotted a pair of Canadian skates that would sell for about $20 here ($135 today). The Russians don't seem to use tape, either. They wrap their skate laces around their ankles, just like thousands of Canadian kids used to do. Around their shin pads most of the Russians wear garters – again a throwback to the Hot Stove League. Underneath their red and white uniforms, however, the Soviet nationals wear the best available: Cooper equipment from Toronto, the most commonly used stuff in the National Hockey League. The sticks are mostly from Finland (KOHO), but a few players carried Canadian models. One of their goalies sported what looked like a modified baseball catching mask. If the pace of the workout this morning is indicative of the game tempo, Harry Sinden has reason to worry "about the pace they're likely to play." Sinden reiterated that "we're going to try and play the game the way we always do." But fully anticipating the continued high tempo, he added: "I'm glad we have four lines." [Most NHL teams then played a game with only three]. There is some feeling developing around the Forum that the Russians may be underrated. "If I were a sports writer," says Sinden, "I'd pick the Russians. Like them, you have nothing to lose." Working against the Soviet team, however, is the fact that it is in the process of rebuilding – ever since Tarasov was sacked as coach. Several of the 27 member squad, like Ragulin, have been around for years. Despite the heavy odds against the Russians in this series, there is little doubt in many quarters that it won't be long before the Soviets are a match for the NHL. "No matter what happens in this series," predicts Toronto star columnist Milt Dunnell, "I have no doubt that in 10 to 15 years we'll be going over there trying to regain the Stanley Cup. They have the population to recruit players. They don't have the diversions we do, like swimming pools and automobiles." As the big game approaches, the Canadians are edgy. "They wish the game was tonight, not Saturday," says coach Sinden. For his part, Al Eagleson went further out on a limb when asked if one Soviet win is a moral victory. "Sure it is," he replied. "We don't want to lose anywhere." Adds defenceman Brad Park: "You could say that if the Russians win one game it will be a moral victory for them." On another front, officials were busy hassling with protocol matters. The Soviets, for example, insisted on the musical version of their national anthem (not the version with lyrics that praises Stalin, they decided). Since the piece runs to three minutes and 10 seconds, the producers were desperately trying to find a way to fade the anthem out and leave time for at least two commercial messages, the Canadian anthem and opening ceremonies. Trudeau will drop the ceremonial first puck in Montreal. But because of the impasse between Tory Eagleson and the PMs office, there will be no official puck dropping in the other three Canadian games. Eagleson had proposed that Trudeau would drop the puck for the first game. Ontario premier Davis would perform the honours in Toronto. And Schreyer would do Winnipeg and the premier of BC wanted to play the role in Vancouver. No way, the PMs office replied. The PM, they said, wanted to officiate alone in Toronto. When Eagleson proposed that Trudeau and Davis do the job together, negotiations broke down.
We have gone over with Eagleson the breakdown of the take from the series: $750,000 will go to Hockey Canada for the TV rights; $1-million to CTV; about $150,000 to agencies for commissions; and $150,000 for insurance, offices and production. Eagleson's hope is that in addition to the $750,000 guarantee to Hockey Canada, he can add an additional $250,000. This would bring Hockey Canada's pot to $1 million [$6.8 million today] to be split 50-50 between the hockey body and the players' association. [Rights holder Ballard-Orr will glean profit $1.2 million]. The Russians themselves are proving adept at North American capitalism. They propose to sell the television rights in the US for the four Soviet games at $50,000 each. Since only one of them is in prime time, Storer Broadcasting of Boston said no, countering with an offer for $65,000 total. The two sides are still bargaining.
Game 1-(Montreal)
During one of the commercial breaks tonight in the Canada Russia game, the organist played  
I'm Dreaming of a White Christmas
. Just about that time, the Canadian team must have wished it was mid-winter. Clearly they were not skating at the form they usually are around December.
"We got beaten," coach Sinden noted after the game, "by a much better hockey team." What surprised most people about the Russians were some great individual playmaking and goaltending. Too often Canadian defenceman sprawled on the ice to block shots that never came. Even goalie Ken Dryden, who's more accustomed to the Russian propensity to pass rather than shoot, was 'deked' out of position on a couple of goals. As for goaltending, well along with individual play, that was supposed to be a plus for Canada. Not tonight. Vladislav Tretiak made at least nine (as I counted them) steals off point blank shots: three by Frank Mahavolich, two by Esposito, one by Peter Mahavolich, one by Lapointe and — most surprisingly — two against the Canadian power play. "We didn't shoot enough," moaned Phil Esposito, referring to the 34 shots the Canadians fired (vs. 30 for the Russians). What was working for the Russians, clearly, was their superior conditioning and their poise. Many experts had warned that the Canadians might find it difficult to make the adjustment to international hockey. Brian Glennie, who knows from personal experience as a former player for the national team, explained after the game: "Until you've played for your country, you don't realize that you can 'get up' too much." As a result, the Canadians had a tendency to want to do too much — by trying to be in too many places on the same shift, and by trying to hit everything that moved in a white jersey. But, as Sinden noted, "they take body checks real well. They're bigger than you think they are. You can't hit them just by running around." As expected the Russians tried to play the game flat out. Sinden anticipated this, but notes: "I really didn't expect them to skate so easily for the full 60 minutes. Unless we play excellent hockey it will be life and death to win any of the games." Conceding he would have liked to see more shooting from Cournoyer and that he was disappointed with the Ratelle line ("they didn't skate at all"), Sinden added: "We'll make some changes." It is probably a safe bet that the likes of Stan Mikita and Dennis Hull, who didn't play tonight, will see action in Toronto).
It was a point underscored graciously by Russian coach Boris Kulagin: "We realized that not all the best players, like Makita, Stapleton and White, were in the game." Says Sinden: "I was stunned by how well they played at times."
Toronto Sun 
columnist Jim Coleman agreed, adding that this Russian team is "10 goals better" than when he last saw them at the World Championships. In some ways, as we've already noted, it was easier for the Russians to be poised tonight: they had nothing to lose. But none of the. Canadians seem to have been prepared for the exciting play of the likes of Valery Kharlamov (two goals, including the winner, and named the Russian star of the game), Alexander Matsev (two assists and several stiff body checks), Eugeny Zimin (two goals)  and Alexander Yakushev (a goal and two assists ). "They wouldn't let us stop to regroup," said Don Awrey. Added Phil Esposito: "I was really surprised by the goaler. He stoned me as well as anyone has. Their ability to stick handle surprised me. They're a really good hockey team." How about their defence, Esposito was asked: "That's hard to say because I was never down in their zone it seemed." Dryden, for his part, underlined the tension experienced by the Canadians, as Lloyd Percival and others had predicted. "We played a panic kind of game," said Dryden. "We'd be behind, then we'd have three men on the park." Even Mr. Cool, Phil Esposito, conceded he faced a new kind of pressure tonight: "This is probably the first time in my life that I was really nervous." As for our Eagleson, well he was eating crow tonight. He had predicted that the Canadians would win all eight games. Tonight he had a weak reply: "Now we have to win seven to one." Eagleson, with prodding, added: "Sure it's a moral victory for them." It was vindication too, one might say, for the way the Soviets have always approached hockey. They didn't ice an international competitor, for example, until they must have known they could win (which they did in their first world championship in 1954.) Presumably the Russians were equally confident about their match with the pros. My feeling is that they were sure the pros wouldn't take them to the cleaners and, on the basis of tonight, they were probably right. The Russians also seem to outclass the Canadians in sportsmanship. When the Soviets lined up at their blue line for the traditional post–game salute, all but three or four Canadians were in the dressing room. Sinden made an effort to get his team back on the ice, but it was too late. The Russians had left the ice by then, with the crowd booing the Canadians. Sinden claims the Canadians we're not told about the traditional salute and and apologize publicly to the Russians. "It won't happen again," said Sinden. Presumably, Sinden meant the outcome of the game too. [Now, on to Toronto].
September 4
Game 2 — (for TIME Sport NY, filing from Toronto)
The
Novosti
correspondent wondered about the impact on Prime Minister Trudeau's reelection bid next month. The president of the Toronto Maple leafs termed it "a national disaster." The Toronto Globe and Mail columnist ate his column – lacing the newsprint with borscht. The trauma had nothing to do with the expulsion of spies, a diplomatic snub nor even a disclosure that Canada was mixing catnip in wheat supplies shipped the USSR. The outpouring of humility and anger represented Canada stunned response to the 7–3 defeat Saturday night at the hands of a hockey team from the Soviet Union. no matter what happened in three games in Canada this week, and during four matches later this month in Moscow, the Soviets have delivered a stiff body check to the Canadian national psyche. For almost 20 years Canadians have excused their losses in world hockey with the alibi nothing rules bard Canada's best players: the 300 professionals who fill national hockey league stadiums and 16 North American cities.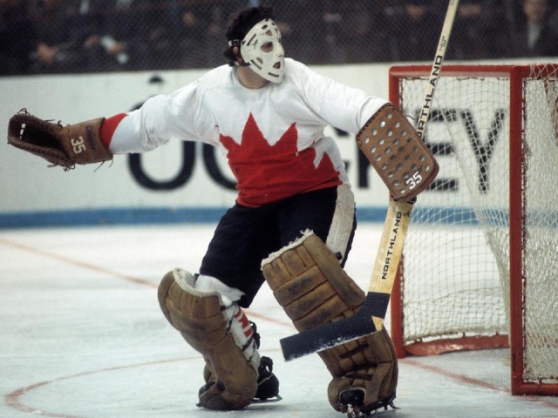 When Canada's fill Esposito scored after only 30 – seconds of play in game one, a national cheer orang out from St. John's to Victoria. But it turned out to be as premature as the prediction (by the
Globe
columnist Dick Beddoes, and others) that Canada would win all eight games. The well conditioned Soviets skated circles around the finest collection of hockey players ever assembled for one team. They beat the Canadians at their own game with strong individual play and goaltending, which were supposed to be Soviet weaknesses. Humiliated by the loss, the proud NHL pros got their game together Monday night in Toronto. They forechecked the Soviets so fiercely that the vaunted Russian passing game turned into a horror show. Boston Bruin tough guy Wayne Cashman inserted into the lineup. after sitting out game one, threw elbows and shoulders around, and discouraged the fleet skated Soviets from moving with their heads down. Tony Esposito turned in some truly superior goaltending, his brother Phil scored once and set up the back breaking third goal in the 4-1 victory. For the first 30 minutes the game was scoreless. Then just seconds before a Soviet penalty expired in the second period, New York's Brad Park made a neat effort to keep the puck in the Russian zone. He passed it to Cashman, who sent her the puck. And Esposito jammed at home from within 5 feet. With only six seconds left in the second period, the Canadians got a big break. Defenceman Gennady Tsygankov was penalized for tripping and, when Russian scoring ace in the Valery Kharlamov — the star of game one — bumped into the American referee while protesting in the call, Kharlamov was sent off for 10 minutes on a misconduct penalty. With less than two minutes gone in the second period, Montreal's speedy Yvonne Cournoyer made one of his patented breaks in on gaoler Vladislav Tretiak and flicked a wrist shot into the net on a pass from New York's Brad Park. That proved to be the winner. Despite the score, the Russians proved again in game two that they can be a match for the best that Canada has to offer. So exciting where the end-to-end rushes, and the saves by Esposito and Tretiak, that many NHL fans were grumbling legitimately that the Soviets were better entertainment than most expansion teams in the NHL. Even if the Russians fail to win another game, it's clear they have etched an impressive moral victory on the great international scoreboard. They have rejected the North American approach to hockey, with its emphasis on stars, box office and its domination by American capitalism (13 of the 16 clubs are owned in the U.S.). Instead of a system that is geared to developing a few players for the pros, the Soviets have based their success on a total concept of the athlete. The strong Russian showing so far, in the long run, is the best thing that could happen to
Canadian
hockey. It may force a fundamental overhaul of the system, with the state moving more strongly into the building of rinks (as winter works projects) and the development of a solid amateur structure with top level coaching. It does not exist now.
The Bible by Tarasov
The hockey Selects from the Soviet union skated this week in Canada on old blades, worn down almost to the tubes. When the iceman came out to make repairs on the rink during Game 3 Wednesday night, gaoler Vladislav Tretiak did not head for water at the bench: he took practice shots from his mates. When the team arrived in Toronto at 2 a.m. Sunday after a gruelling game in Montreal, the comrades repaired to their dressing room in Maple Leaf Gardens to personally hang our their sweaty sweaters.
In the past such unconventional habits were greeted with chuckles of derision from the slick NHL pros – those pampered and adored stars playing for team Canada in this summit of hockey's super powers. But not any longer. "They compare with any team in the NHL," said Harry Sinden, shaking his head. "We just can't mover-power this team as we all thought we could. We have a tiger by the tail."
September 6
Game 3 — (filing from Winnipeg)
After Canada's 7-3 humiliation at the hands of the Soviet Union Saturday, coach Harry Sinden decided to introduce some muscle into Canada's second game line-up in Toronto Monday. Sinden turned in particular to bruising m Boston Bruin winger Wayne Cashman, who wields his "Northland" stick like a spear and his elbows like hydraulic door braces. With Soviet skaters looking for Cashman over their shoulders, Canada skated to a 4-1 win. Smiled Sinden after: "You may have noticed they didn't have their arms around us son much this game."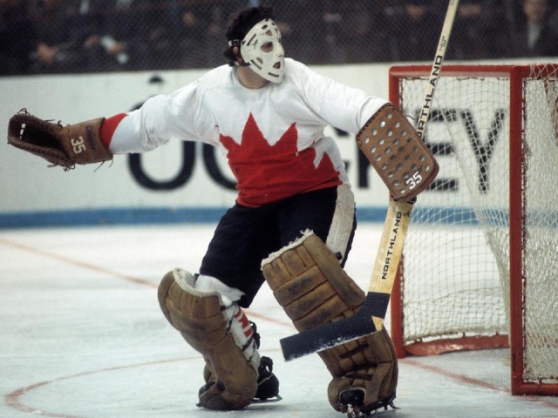 Coach Bobrov made some changes of his own for Game 3 Wednesday night. Benching five regulars, Bobrov produced a Kid Line whose only previous claim to fame was leading a student team to a championship at Lake Placid last February. The rested kids were the difference. They scored two goals —including the goal that tried the match at 4-4 — and managed to lure Cashman into a costly penalty late in the game. That happened when 21-yeqar-old Aleksandr Bobunov decked "Cash" against the boards. Breathing fire, Cashman rose and slayed defenceman Yuri Shatalov on the hand with his stick in retaliation. When the referee waved Cashman to the cooler for two minutes, the winner turned his abuse on the official. The searing simply meant that Cashman was through for the night, with a 10 minute misconduct (at the time less than 10 minutes remained). With the Canadians missing an able corner man and digger, the Soviets managed to save a tie – a moral victory. Once again it was a game of fine goaltending and superb individual play. Tony Esposito stopped 25 shots in all, including a great chest-pad save in the last 13 seconds off Alexsandr Maltsev. For his part, 20 year old Vladislav Tretiak committed Iceland robbery several times, stopping 38 Canadian shots. In the last period, for example, Canadian forward Paul Henderson stood all alone in front of Tretiak with the puck. As the pros are trained, Henderson gave Tretiak a 'deke', then lifted a point blank shot toward the net. "The man who wasn't supposed to have a glove," as Sinden described Tretiak, flashed out his right hand, and smothered the Henderson drive neatly. As they did in game one, team Canada open the scoring early Wednesday night and were leading 2-1 after the first period. They had a two-goal lead in the second period on goals by Phil Esposito and Henderson. But then they felt the wrath of the Kid Line. Within four minutes, the Russian tied the game. After the game Sinden sighed: "Aren't we all lucky to be alive to watch a game like that. Wee. It was a 4-4 tie, that's the way I read it." Could the series result in a review of the way hockey is played in this country? Replied Sinden: "I think it will. I think it should. Who told us we knew all about hockey, except ourselves? They've got some good ideas. I haven't seen much wrong with most things they do." The Soviets, who profess simply to be in Canada to learn, apparently took a slightly different angle. Coach Bobrov stressed that his Kid Line was getting its first real significant test. Naming several experienced pros who didn't make the trip to Canada, Bobrov vowed: "The games in Moscow should be more difficult." As for Sinden, he was thinking only of Friday night's game in Vancouver. "Each game," he said, "is a monumental task in its self. We are not even thinking about Moscow yet." With that, Sinden headed for his hotel, some scotch and much contemplation.
Ken Dryden: A Conversation
September 6, Room 1914, Northstar Hotel, Winnipeg
Ken Dryden dropped by my hotel room today, vainly attempted to call his old Winnipeg landlady, then talked for more than an hour about what the Canada-Russia series means to hockey everywhere.

Unlike many of the NHL pros, Dryden readily admits that there are lessons to be learned from this summit of hockey super powers. "People have an absolutely newfound respect for Soviet hockey. Before the series there was a feeling, 'we invented the game and they are interlopers.' What has happened now is a great change that is good for hockey in general. There is a realization that they play the game differently and that they are very good. "It may lead to a realization that we should adapt our game. There just isn't any right or wrong way. In Canada, for example, the emphasis is on individual play. Teams that don't have great individual stars now might be advised to play a team kind of game."Then, there's their conditioning. They are not, after all, a big team. But in a collision on the ice it's 50-50 as to who's going to end up off their feet." Dryden makes clear that he doesn't consider adaptation a one-way street leading into Maple Leaf Gardens. The Soviets still have weaknesses which he thinks they could correct on the basis of this series. Their goaltenders, for example, don't roam behind the net to stop the puck for the defencemen. "This is ironic, " adds Dryden, "because they play such a possession kind of game. But often they give up the puck when it goes behind their net." The former [Ralph] Nader Raider also gives the Soviets low marks on shooting. "Because they play such a team game," he notes, "often when they are 15 -20 feet out, coming in, they'll pass instead of shooting – and that's such a critical area from which to shoot." Dryden seems almost pleased that the early predictions about an eight- game Canadian rout haven't panned out. "That way you wouldn't learn anything new," he suggests. "There's a real sort of respect now. In the past, it was always them doing it against what we regarded to be inferior competition. But now they're doing it against us." The Montreal Canadiens goaler believes that the Soviet team is "definitely" capable of respectable play in the National Hockey league. "They do so many things well," says Dryden. In fact, he wonders, will the contrast between this exciting series and a regular NHL season make the fans regard even a close fight for first place as, "dull stuff?" Dryden feels that this series will produce a much more critical form of hockey fan. "A lot of it," he notes, "is that the fan is told, and believes, that he is seeing the very best hockey players in the world, that it's the best show available. At least now, there's a question. Perhaps the fan is going to become more involved, rather than accept blindly what he is told. Fans have allowed their eyes to be opened, and it's just great." What has the series told Canadians about their hockey system? "Up to now," Dryden responds, "there has been really little coaching. It was kind of house-league hockey, where you played each other and did what came naturally. In contrast, he notes, Soviet and other European coaches actually publish books which are read by a wide variety of coaches and players. Another problem is the Canadian emphasis on individual players who have NHL potential. "A kid really has to show something by age 17 or 18," says Dryden, "or he's through. He's got to show he's Junior A material by that time. He's got to be big. He's got to have a good shot. But US college hockey  has at least demonstrated that, as late as 22 or 23, players have potential. Here, if you don't end up in Junior A by 18, you end up in a mediocre league." Change, as always, will be difficult. "You have an existing system," says Dryden diplomatically, "that isn't going to quit by itself. There are people in junior hockey making money. The NHL teams for their part are happy to get a kid at 20 rather than waiting until he's 22 or 23.'" And a willingness to change might even overturn some of the conventional assumptions about pre–pro hockey in Canada, Dryden suggests. "Maybe you don't have to play 60 or 70 games," he opines." Maybe you could play 35 – and also go to school. Now there isn't a reasonable chance to do both. Maybe there'll be more tolerance for other ways that can be effective." Dryden views hockey Canada's training and scholarship programs as a hopeful start. "Hockey Canada is working very slowly at this on the college level," he says. "But a lot of people can't qualify because of academic requirements. Maybe you need to push it back to the high school level. If a kid really wants to play hockey, he'll do it. He might just as well do it in school." Dryden isn't sure how the funds for such a program should be raised. "It would seem that the federal government would be one way – hockey school certainly can be improved. A lot of them are summer camps where the level of instruction is poor. I am not saying it should be hockey, hockey, hockey;  it is a vacation for kids, after all. But maybe the level of instruction could be raised where it's needed." Overriding everything, in Dryden's view, is the opportunity for fresh air to flow through hockey minds throughout the world as result of this series. "It's not simply a question of how we play, or how the Russians play, but what new ways there are to play hockey everywhere." Dryden concedes that "it is too early to tell "" whether such profound change in hockey will emerge from this series. "Maybe,"  admits, "the initial shock will wear off and people will just forget."  Of one thing Dryden is sure: "This kind of series should be the logical end of any hockey season. There's no reason why it shouldn't happen — and every reason why it should."
September 8
The Russians on the Road (Filing from 
Vancouver)
When veteran forward Vyacheslav Starshinov packed his skates for Canada, he also included a novel item for a professional hockey player: a lengthy two-page psychological questionnaire on hockey which he hopes will help him gain a master's in philosophy. [Indeed, Starshinov succeeded, and then some, becoming head of sport at Moscow's National Research Institute].
Circulated to Team Eagleson players, hockey officials and universities, the "Dear Friend" form seeks to explore such questions as the degree of "your moral responsibility before society." Mimeographed on two sides of a 12×17 sheet of paper it is, Starsh says, "how much it is true — and how great the sense of. moral responsibility before society is" (sic).
The questionnaire underlines the double-barrelled approach to hockey by the Soviets. There is of course the game on ice, and related training. But there is also a deeply rooted ideological and philosophical underpinning, which involves a kind of psychological warfare. Clearly the Soviets capitalized on Canada's inept scouting reports by conjuring up faulty images of a bunch of automated dimwits who had lost their goaltender.
In fact, when Canadian scout Davidson wrote off goaler Tretyak, on the basis of a major loss during an exhibition game while the Canadians were in Moscow, Davidson neglected to note the probable reason for Tretiak's poor showing. The goaler it was getting married the next day, says Al Eagleson. "They really sandbagged us."
As the Russian team leaves the bus outside the hotel Vancouver Thursday after flying in from Winnipeg, the Soviet players seem, to North American eyes at least, to be bringing the same studied, psychological approach to even the most trivial actions. They look so young. [Twenty-three players under age 27—Richard J. Bendell,
1972 Summit Series]
They are far from home. Yet the team swaggers off the bus, some chomping wads of gum. They are confident, obviously, but then they they bend down into the baggage hall, retrieve their own gear, and walk up to the registration desk to pick up their keys.
Not long after there is another contrast with the Canadian stars. These players like to eat, sometimes as often as for hearty feeds a day, They gulp down the buffet laid out in the hotel's "Social Suite". Then they head , belching down the corridor, for a walk outside the hotel. (Two stragglers to the table are denounce for their tardiness in a loud voice by a team official. "25 are held up for the two of you ", he bellows).
Although the players have had, and their view, too little time for sightseeing, they have been almost as industrious in the pursuit of celluloid as they have Canadian hockey players. The night before each game in Canada, the players have gone to the movies.
The Godfather
in Montreal; he
The New Centurions
in Toronto; appropriately, a western called
The Revengers
in Winnipeg.
Their training schedule, often with twice-daily skates, prevented the players from a visit to Niagara Falls, something of a must for all junketing Soviets. But team officials did make it to the falls and, while the players watched Bond's plastic ladies last night, the team brass saw the real thing in. a strip joint.
Although a full-scale shopping spree is lined up for the players in Montreal on Saturday – they are staying at the Queen Elizabeth underpass several of them already have bought Mapleleaf deckles for wives and girlfriends. They like the NHLers have been regular tube watchers, concentrating particularly on the Olympic games from Munich.
Like teams the world over, the players have many of the traits of the professional athlete. Says Aggie Kukulowicz, an Air Canada rep who serves the team as interpreter and tour master, "these guys are like any other hockey team. They like to joke around and play cards on the plane." (Aggie should know. He is an ex- New York ranger who played for David Bouer's national team in 19650. One of the favourite Soviet team pranks is to tack a player's slippers to the floor while he is sleeping, producing a sidesplitting scene the next morning.
Just as team Canada is a bureaucracy, so the Soviet delegation often speaks with two voicest Team officials and team coaches. Last night, for example, when Boris Kulagin, the heavy in the drama, suggested that Soviet fans were perhaps more sporting and would appreciate a good play by both teams, one team official hastened to set the record straight: "Just like fans all over the world."
One difference in the Soviet team, according to Aggie, is that "they are great for philosophizing." When scout Arkadi Chernyshev was asked during the training camp how he expected his eam to perform, he replied: "All things are known in comparison." When I asked Kulagin whether he would like to see less passing by the Soviets around the Canadian goal, he stonewalled: "Those who don't do anything don't make mistakes." Kulagin even introduced a touch of Marxist dialectics into his analysis of the series. "We came here to learn from the Canadians," he said. 'we are also quite sure that there is a lot of interest in Soviet hockey. We think that, as a result of these two opposite styles of ice hockey, there is the birth of something new, some new ideas."
It is virtually impossible to get an accurate picture of Soviet hockey from their representatives here. Early in the Canadian training camp, I was trying to interview Kulagin about the Soviet development system. Suddenly he started asking me questions: "Who is Eagleson? What does he do?" Says Kukluwicz, "The personal side is one phase of their life you'll never get to know."
But some reports are available that suggest the Soviet hockey star is more equal than your average Russian. As army officers, about 13 members of the team holds pseudo meetings on military matters twice a week. The rest of the time is devoted to hockey. Many players tool around town and vulgar cars and have shopping rides at the foreign currency stores.
I noticed that several players wore Italian shoes, and the rest of their wardrobe breaks the baggy – pants stereotype.
In the USSR, Soviet assurances to the contrary, senior hockey is a pursuit for 11-months each year. In 1967, for example, Kuklawicz, then stationed in Moscow, remember watching the opening game of the season on July 5 – and the final game May 29, 1968. Externals are second secretary in Moscow, Gary Smith, confirms that the players only take June off for rest.
The Soviet system is based mainly on a national regime of athletic clubs. The bigger ones, like Spartak and Dynamo, offer programs in all sports and at all levels. The state 'recommends', for example, that kids start playing hockey at least by 10. (That's when Eugeny Zimin started; Tretiak started at 11). I more than 30,000 schoolboy teams compete each year in the "Golden puck" championships – a program that moves from school-to district-to city-to region-to republic-to national playoffs. In all the Soviet way reportedly involves some two million kids between eight and 16 and about 600,000 registered players in the senior leagues playing for clubs, housing complexes, factories and trade unions. This is the reason that
Toronto Sun
columnist Jim Coleman predicts: "In 10 to 15 years I have no doubt that we will be going to Russia to try and regain the Stanley Cup."
There are nine teams in the Soviet 'A' league. It is this level that supplies the stars for the national team. To prepare for the Canadian series, for example, Soviet coaches invited 50 players to training camp. They made their picks on the basis of exhibition games, scrimmages and two Also working for the So international tournaments before the trip to Canada.
Viets is the fact that three teams (Army, Spartak, Dynamo) supplied most of the current roster. Even the exhibition match between Spartak and Army, which Canadian scouts watched, included one complete Spartak line playing in this series and 13 players from the Army squad. So while Kulagan tells us he only gathered the team together on August 21, it is clear that the majority has played with or against each other for several seasons.
Evgeny Paladiev, is a prime example of the ambitious recruitment of top hockey players. He grew up in Ust Kamenogorsk, the administrative centre of Kazhakjstan, 5,000 miles east of Moscow. At 10 years of age, he started skating for the team in his housing project. By 16 he had joined the town's best squad, the Torpedoes. National recruiters noticed Palediev when he travelled to Moscow for a tournament. Three years later Evgeny joined Spartak.
He took correspondence courses for a while from a teacher's college back home, the tuition of about 80 rubles per month being paid by the state. Bachelor Palediev also lived the good life in Moscow, with the rent free, three – bedroom flat in the status of an NHL star, write down to autograph hounds in the hotel lobby.
Not surprisingly, such an ambitious approach to hockey involves much discipline. In a practice once in Moscow for example, Alexandr Maltsev  missed a pass and, in punishment, was required to do yen rolls on the ice, diving onto his shoulder, then springing back onto his skates.
Ex-coach Tarasov was even given to berating players who were on the ice while goals were scored in practice sessions. "Whi is guilty, raise your hand?" he demanded in one typical incident. "What did you do wrong?" he asked the offending player. Cutting short a feeble explanation, Tarasov added: "No, no, your fault began at the other end of the ice. You covered the wrong man. Don't make that mistake again."
 In Winnipeg this week, I also watched Kulagin putting one of the second string goalers through a private, post practice drill. Kulagin waved the painting player through a series of stops and starts – straight ahead from the net and then back, off to the right and then back, off to the left and then back. Explained Kukluwicz: "they figure that when a hockey player is tired, that's the time to get him in shape." One player confessed to a Canadian official this week that, if he had to do it all over again, he would become a doctor, not a hockey player. It's clear that some Russians realize there is more to life than body checks and scoring goals.
Clearly Soviet hockey players are often no different than Canadians. A Canadian star stays out until 6 AM one morning this week at a wild party; so, sometimes do the Soviets: during one Isvestia tournaments two players were dismissed because they turned up late after a night of carousing.
September 8
Game 4(
filing
 from Vancouver)
Once again, indiscipline cost Team Canada dearly. Two unnecessary penalties by right-winger Bill
Goldsworthy — one for cross-checking, the other for elbowing — allowed the Russians to score twice with a man advantage. Both goals were Boris Mikhailov deflections off shots by defenceman Vladimir Lutchenko.  That was in the first 7-minutes and 29-seconds of the first period. The Canadians never recovered. 
  Russia 5 Canada 3
Although they made it 2-1 on Gilbert Perreault's goal in the second period and scored two more times in the third, they could not keep pace with the Russians. The viitors got two goals in the second period and another in the third to win 5-3. 
Heading to Moscow, the Soviets were one game away from winning the series and the Canadian spectators made their feelings known with a deafening series of catcall and boos. At one point they gave a Bronx cheer to goaler Ken Dryden for stopping an easy shot. They booed every missed Canadian pass. It was ugly.
So ugly, that when Esposito was named Canadian player of the game, he took advantage of a live CTV interview with host Johnny Esaw to berate the Canadian fans. It was a Churchillian moment:
"To the people across Canada," he began, "we gave it our best. For the people that booed, geez, I am really… all of us guys are really disheartened, and we're disillusioned and we're disappointed in some of the people. We cannot believe the bad press we've got… Some of our guys are really, really down in the dumps. We know we're trying. Hell, I mean, we're doing the best we can and they've got a good team and let's face facts. It doesn't mean we're not giving it our 150% because we certainly are… Every one of us guys, 35 guys that came out and played for team Canada, we did it because we love our country and not for any other reason, no other reason.… And even though we may play in the United States and we earn money in the United States, Canada is still our home, and that's the only reason we've come. And I don't think it's fair that we should be booed."
The team was scheduled to fly back to Toronto and, after a three-day layover, move on to exhibition matches against the Swedish national team on September 16 and 17 before facing the Russians for four games in Moscow.
Vladislav Tretiak: A Conversation
After the game tonight, I had a promised sit-down with Vladislav Tretiak, arranged with the help of Canadian diplomat Gary Smith, who is travelling with the team in Canada. I filed this report:
For many National Hockey League stars, Dad is the dominating figure in their careers. He built rinks in the backyard, drove them to early morning practises and stood in the snow banks while they bloodied their nose us. For Soviet goaltender Vladislav Tretiak, the driving force behind his hockey ability was Moma. When young Vladislav was growing up, his mother played
bandy
, sometimes known as "Russian hockey" because of its possible origin there. Later she pursued athletics as an instructor of physical culture and sport. One day during a visit to the central army club swimming pool in 1963 Vladyslav spotted the colourful jerseys of the local hockey team. "I wanted to have a uniform like that", the personable 20-year-old recalled during an interview with me after the 5-3 win over Canada in Vancouver Friday night. "First you must learn to skate," Vladislav's mother warned the young hopeful. So it was that Tretiak tried out as a forward for Central Army's second boys division when he was 11. The hitch, as Vladislav discovered, was that there were very few uniforms available. If he really wanted a sweater, Tretiak was told he would have to become a goaler. Tretiak jumped at the chance. He went between the pipes for this first game—and allowed seven goals in a losing debut. But Vladyslav learn quickly: he was playing with boys two or three years older than he. Each year he moved up a division with the Central Army club. "Because I was so young, "he says, "everyone rooted for me." The record indicates that there was reason for the accolades: Tretiak is an honoured Sport Master, a two-time world champion, an Olympic gold medalist, and two-time winner of the nations' best goaltender award. For Canadians, Tretiak will be remembered as the man who stoned the NHL's best sharp-shooters for four games and sparked his team to an upset in the first round of the Canada-Russia series. Tretiak is currently in the third of a five-year course at the Institute of Sports. He is a lieutenant in the Army and was married just before the trip to Canada to an attractive blonde who is a fourth year student of Soviet literature. (She wants to become a teacher). He also has a 22-year-old brother, a physicist who has no hockey interests. Vladislav clearly enjoys the life of a hockey star in Moscow. His eyes light up when he boasts: "I get many letters from girls, even now that I'm married. They send me flowers and used to call me up all the time." The Tretiak still live in Vladislav's old bachelor pad, a one bedroom flat near the Leningrad highway, just 15 minutes from the Central Army stadium. Until recently Tretiak owned two cars, an Italian Zaguly and a Moskvitch. He sold the Moskvitch recently, but relishes the fact that, as he puts it, "I stand out in the crowd as a hockey star." The state supplies the Tretiaks with their flat and of course all tuition is free. This leaves certain conveniences to buy with his army pay, the amount of which he declined to reveal. As soon as his wife is pregnant, vows Tretiak, they will move to a larger flat. When will that be question "who knows," he smiles. "The sooner the better." When he was a bachelor in apartment-shy Moscow, Tretiak was, literally, the life of his own parties. Often he would invite his friends over to listen to music and dance. On his nimble feet today, Vladislav wears black patent leather loafers. One of Tretiak's major inspirations was former national team coach Tarasov, his mentor now with the Central Army team. Tretiak relates that he was also profited from studying the styles have such an NHLers as Jacques Plante and Tony Esposito. I asked Tretiak if he is having a hot streak in Canada and whether he has ever played so well. "I always start off the season well," he replied. "But since I am the only goaler, I'm pretty tired late in the season. Tarasov always plays me because he wants to win all the time." On the flight over to Canada, Tretiak was concerned about being bombed by the NHL players. "We were luck to win," he says modestly after seeing for himself. Before the series began, somebody forgot to tell Tretiak that Canadian scouts had reported that the Russians were weak in goal. Twice a panel of hockey experts in Canada awarded him a ring as the most outstanding player of the game in Montreal and Winnipeg.
What, Soviet coach Vsevolod Bobrov was asked after the second ring, will Tretiak do with the gold? "Well, he was just married and the second ring will probably be for his bride." What about a third or fourth ring? Who would get that? "I think he also has one girl friend."
[I did not travel with the team to Sweden, a perk reserved for the two dozen "regulars" on the NHL beat. The two games in Stockholm were brutal. The two West German referees handed out more than 20 penalties during the two games, including two 10-minute misconducts, several for fighting, some for spearing and high-sticking. A Canadian cross-check broke one Swedish player's nose. Wayne Cashman left an encounter in the second game for hospital with a severely lacerated tongue requiring 40 stitches. There was even an ugly stick-swinging duel that had both players slashing wildly at each other. 

The Canadians did come away with a 4-1 victory in the first game. And then, as a kind of harbinger of things to come, a 4-4 tie with Esposito scoring the winner with less than a minute left in the game. Team Canada also took advantage of the games and practices to get familiar with the larger European ice surface. The controversy over the uncertain refereeing by the two Germans also stoked animosities that would erupt into major showdowns in Moscow. And, in a strange way, the booing of the Swedish fans and the harsh denunciation of the Canadians in the press served as a bonding agent as the players headed for Moscow.

Meanwhile, tellingly, some of the Soviets were so confident of victory that they took off for a week at a resort on the Black Sea in Sochi. They only started practicing again three days for Game 5.

 Meanwhile, the Canadian invasion of Moscow was underway.]
September 21
The Canucks Have Landed (filing from Moscow)
Although I was a working journalist for part of the international hockey summit, I was not part of the official NHL entourage of regulars and had to travel as a tourist to Moscow—as a designated "Beaver", the code name of the Aeroflot charter flight group to which I had been assigned. Herewith some early impressions filed on Thursday, the day before Game 5:
The Canadians are landing: 2650 of them, here in 11 planes from from 10 provinces, each with his own story to tell. There are bank presidents, board chairmen and cattle ranchers. There are doers from the Timmins Chamber of Commerce, secretaries from Parliament Hill and lawyers from Vancouver. One matron is making her first flight and an Indian named Carl Marvin Lewis from Toronto (no kin) is parading around in eagle feathers.
We are marshalled to breakfast in the morning in 30 groups at seven hotel, and each unit has a code name: Beaver 1, Fox 2, Buffalo, Deer or Elk, a system pioneered at Expo '67. Some of the more boastful males claim to be Wolves, but they obviously don't know a thing about Moscow nightlife: it is non-existent.
Moscow-bound Canucks this week were at least forewarned, if temperamentally unsuited, for a smorgasbord of snafus served up for them on the eve of tomorrow night's game. Kentours of Toronto, for example, included with the tickets a brochure of Moscow dos and don'ts which helpfully outlined such scenarios for disaster as lost luggage (two incidents reported so far, one found), ticket cancellations and agonizing waits (up to an hour just to check in).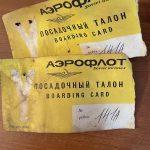 But the average Muscovite's lot is worse: a crop failure this season has meant, among other things, rationing of potatoes. Riding down Kutuzovsky Prospect Wednesday I saw vegetable markets ringed with patient citizens. A special session of the Supreme Soviet, 2,000-strong, called to discuss the shortcomings of the first year of the five-year plan for more consumer goods, has also meant that the Archie Bunkers of Moscow, have been virtually cut out of tickets for the four games to be played at the 12,359-seat
Dvorets
Sporta
.
Because of prior warnings, it was with a good deal of resigination that we Beavers learned Monday [Septemeber 18] in Montreal that our Aeroflot flight to Moscow would be delayed for several hours. The official explanation was that weather had closed the Paris airport, our refuelling stop. But once our new Ilyushin 62 quad-jet was airborne, the fine Soviet service and efficiency of the crew obscured the fact that we didn't make a refuelling stop at all. [Indeed the non-stop service from Montreal had been in operation for several years]. As always, in this vast and complex society, there were no real answers for the hitch. There never are, it seems. Here especially, patience must be substituted for knowledge. More often than not it is a virtue rewarded amply by the genuine friendliness of the people — and other pleasant surprises.
Food at the vast Hotel Rossia, where I am lodged, and at the nearby Hotel Intourist, where Team Canada its billeted, is good, if predictable. Baths can be taken by visitors who remembered to bring sink stoppers. And out on the streets, where the first impression is one lot chary reserve, the locals seem too warm to the greeting, "zdrazhv-stvui-t'yeh (hello) and Kahnahdah. 
When Moscow bureau chief John Shaw took me over to the Sports Palace Wednesday, Kahnahda, in fact, seemed like a code word. Although unscheduled, our visit resulted in helpful directions to an open side door by a cleaning woman. Inside the theatre-like structure, workmen nailed panels to walls amid the buzz of electrical saws. In what amounts to major concession to status-seekers, the Soviets have installed two new boxes on one side of the rink to accommodate  some media people and dignitaries. A new roof has been installed to improve acoustics. At either and of the rink there is new rope-netting — nothing as the workers conceded, to rival the plexiglass protection which surrounds North American rinks; but enough, presumably, to spare the end-zone fans from dealing with wide-of-the-mark slapshots by Canadians like Dennis Hull.
At rink level Anton Potapoff, chief of preparations, paused during the ice-making to explain that his crew was given just 15 days to prep the stadium. It was only five days ago that workers laid the first sheet of ice. But already Anton could proudly boast two-and-a-half inches of ice, underlaid with three cubic metres of skim milk to cut down the glare. (In contrast, artificial ice in Canada is normally only three-quarters of an inch thick). In the two days remaining before Game 5, Potapoff's crew planned to shave and re-surface the rink to make it glass-smooth.
Hockey is not the only thing for which Anton's crew prepares. The stadium, part of the massive Lenin sports complex for events like soccer (100,000 seats and 30 tennis courts) is home to some 20 different spectacles, including wrestling, boxing, judo, volley ball, table tennis, ice reviews and jazz concerts.  Outside the rink, in an area abutting the Moscow River and within sight of the dachas of the Lenin Hills, school children formed in groups for exercising late Wednesday afternoon. Nearby on a huge square, perhaps 500 youths drilled for a festival.
Interest in the hockey matches is reportedly high. But it doesn't yet rival the whispered  chatter about the harvest failure or the big, end-of-season soccer matches. The mood will certainly change when perhaps 50-million viewers tune in the hockey game live (and, for a select few,  in colour)  Friday night. The first cold winds of winter blowing across Red Square Wednesday also are a reminder that, by late November, the open-air rinks should be resounding to the sounds of the future Valery Kharlamovs.
There is at least enough interest in the Canada-Soviet games to produce grumbling from fans who vied for no more than 1,500 first game tickets (top price: $7.50, or more than three times the usual). [Still that was only $52 in 2022 dollars]. High party officials, influential fans from east Europe, some of Moscow's million bureaucrats, trade union brass and army officials grabbed most of the available tickets. "Thousands didn't get tickets," complained one Muscovite lined up a week before the first game at the Sports Palace.
The Soviet delegation at the games is expected to be headed by a key political figure. Brezhnev also visited the Canadian exhibit at an agricultural fair this week, as part of a tour of other national exhibits. Pravda took note of the visit and on Wednesday Sovetskaya Sport served up thumbnail sketches of the Canadian stars.
The mass circulation sports paper noted pointedly that 12 Canadian players are more than 30 years of age, 13 are more than 25 and that the youngest five are 21 [An authoritative statistical analysis by accountant Richard Bendell
for a 2013 book
established that the Canadians were decidedly older on average with only 12 players under 27, compared to 23 for the Soviets]. "Judging by their height,"
Sovetski Sport
added, as if to belabor the point, "Team Canada players could play basketball." [Indeed, Bendell documented that sixteen Canadians were 6-ft or more, compared to eight Soviets].
The bios were essentially non-controversial. The paper picked Stan Mikita, Phil Esposito and Jean Ratelle and their respective line mates as the best Canadian players. Sovetskaya Sport  also described Yvan Cournoyer as "netlike", referred to Frank Mahavoilich as having been "sold" to Detroit at one point in his career and noted of Wayne Cashman that the has the reputation as one of the toughest players in the NHL. Ever faithful to the public image, the daily added: "Even hockey books note that his left hook is the best in the NHL."
Canadians in Moscow this week could validly make the counterclaim that the Soviets have a fast right hand on Canadian currency. Increasingly, it seems, the hosts are devising new ways to gobble hard cash. Although some 60 reporters were accredited to Team Canada, only 28 were allowed to travel with the team. The Soviets insisted that the rest of us pay the full charter rate from Canada  [about $600 as I recall, or about $4,000 today, for flight, room and meals]. The rationale seems to be that because the Soviets profit only from an Air Canada-Aeroflot deal on group charters for Canadians, they wanted to limit the number of Canadian press freeloaders.
The dollar stores — state run 
Beriozkas —
 are, of course, wide open to visiting Canadians. In the Hotel Russia, the most lavishly stockled, they can buy caviar, watches, gold earrings, carved dolls, cameras, vodka and other liquor, books, records and a host of other souvenirs. American cigarettes, as well as local brands, are also available at dollar bars. In Beriozka 'supermarkets' further from the hotel, tourists can also plunk down cash for steak, beer, mineral water, detergent, apples and milk, most imported.
There are even obvious  attempts by a few locals to swap rubles. Last night in a classically humours scene, I was approached in a hotel lobby by a seemingly tipsy local for a light. After trading national lapel pins, he drew closer and asked: "Scuse me, you want to change dollars?" After I replied, "Nyet," we parted. Three paces away stood a rather forbidding character in a brown leather coat — all of this, mind you, taking place in a hotel where most of the 2,000 members of the Supreme Soviet are currently quartered.
The "Parliament" meeting, in fact, has been the cause of not little Canadian grief. Because the Soviets reclaimed 1,000 rooms at the Hotel Rossia for the meeting, Intourist had to switch many Canadian visitors to something less than first-class hotels throughout the city (originally only three hotels would have been required for the Canadians). At some hotels tourist complain  about indifferent food, closet-like rooms and the fact that hotel bars serve noting but neat vodka. "There are places in the world," said one unadventurous Torontonian on his first visit here, "I'd rather visit."
In the main, however, this is an exciting environment which can be mastered enjoyably with patience — and some thumbing of the trusty Berlitz phrase book. When I arrived as a "Beaver 2" I discovered that I would be the only reporter staying in the east wing of the 6,000-bed Rossia, Europe's largest. This gargantuan, overlooking Red Square and the Moscow River, is effectively four separate hotels, connected by hallways policed by stern women at desks who control the room keys. I determined to move from the Vostok wing to the north Sever wing where other reporters were living. After only two hours the switch got made. But I had to trade my "Beaver" tag for the "Fox 2" designation — perhaps an appropriate one for members of the Fourth Estate.
September 22
A Soviet Practice: Kulagin as Drill 
Sergeant 
 (filing from Moscow)
The sports centre of Moscow's Central Army Club is a sprawling enclave of buildings on the western edge of downtown Moscow. Friday morning the Soviet Selects went there for a light skate to prepare for game five tonight. What went on at the rink provides an inkling of what's behind the amazing success of the Soviet hockey program:
The players rose at 8:30 AM at their special quarters outside Moscow. They did exercises, ate, then rode the bus through the gates of the central army club facilities. Apart from a theatre like, 3000 seat ice hockey stadium, the grounds include a swimming pool, tennis courts. There are outdoor volleyball and basketball courts. Just next-door to the hockey surface, a group of six-year-old skated fancy figures under the supervision of an instructor on a small inside rink.
Back in the hockey rink, coaches of Bobrov and Kulagin dismissed the starters for tonight's game. Then they put about 15 subs through an ambitious one-hour practice. Most of the drills consisted of those patented two-on-two rushes. Holding a microphone at the side of the rink, Kulagan's are amplified instructions boomed through the empty rink. "
Shto te delayesh
?" (What are you doing?), Kulagan demanded of one laggard. "Bistree, bistree!" (Faster, faster), he yelled. To another player, Kulagin shouted: "You can't do anything without skating. You've got to fight." When one forward attempted some ineffective solo stickhandling, Kulagin delivered a terse lesson on teamwork: "Can't you count to two?"
The Soviet Union also has "rink rats." Outside the stadium some would be Soviet all stars were clustered trying to spot their favourite hockey players — it is not the custom here to seek autographs, apparently. One of the keenest was bright eyed Seryozha Glukhov, 13, a resident of Weston Moscow who is a defenceman on a kid's team at the Soviet Wings sport club, and athletic centre for workers in the aircraft industry and their families.
While Seryozha talked with me, he demonstrated promising form with a slob shot. He lined up a small rock, slapped it with the heel of his broken hockey stick, and send pieces of the stone flying along the ground. He patterns his own game after you forget you Eugeny Mishakov, one of the fast skaters on the Soviet national team.
Like Seryozha, 13-year-old Igor, stood outside the Central Army Arena with a hockey stick. He says he started playing hockey at the Dynamo sport club when he was 10, the age recommended here for beginners.
Since there are only three big, artificial rinks in Moscow, Igor and Seryozha will have to wait for the snowy blasts of November before getting on the ice. Once the temperature dips below freezing, however, great swatches of the city are transformed into ice sheets. In Mammoth parks such as the 300-acre Lennon sports complex, they simply turn on the hoses and flood the playing fields.
Although the Soviets understandably try to cultivate the team approach in all sport — individual player profiles are not sport page features — the kids still seem to have definite views about the top players. One youngster prospecting among Canadians for bubblegum at the Lenin sports complex the other day was overheard expressing certain reservations about the personal style of Valery Kharlamov. Said little Ivan: "He is a witch."
While Soviets sport appears to be a rather Orwellian and elitist preserve of the very talented there is no doubt about the tenacity of the elite. In a rare interview today, Boris Kulagin gave me and SI's Mark Mulvoy a comparison of the Soviet and Canadian styles. "We think our guys worked harder," Boris told us after the Friday morning workout. "I don't think the Canadians had as serious and approach. The seriousness of the approach to the game is everything. The boys themselves take it seriously."
Seemingly more affable than he was during his three-week scouting trip to Canada, Kulagin allowed as how he filled two big notebooks back to front with observations about the Canadian team. "I didn't miss anything," he smiled. "Everything was of interest."
Kulagin was also candid and comparing his fine young goaltender Tretiak to the Canadians. "The Canadians are good on the hard (swap) shots. But they are not used to stopping our style."
 Harry Sinden, the embattled Canadian coach, obviously concurs.
Game 5 (filing from Moscow)
Phil Esposito's spill at centre ice during the pre-game ceremony surely was an omen, even if he ended with a gracious bow to the laughing fans. True to form, "Team Fade" fell on its collective face when the Russians, trailing 4-1 with only 11 minutes left in the game, scored four goals within a six minute period to win 5-4.
With party chief Leonid Brezhnev and Premier Alexei Kosygin looking on — and looking down at the Catelli pasta ads on the ringside  boards — the Canadians sometimes skated as though they had eaten too much of Phil Esposito's spaghetti.
It was fully eight minutes before Canada got on track and made their first serious attack on Tretiak. "The lack of conditioning was obvious," said Sinden after the game.
What was less obvious was the peril of Paul Henderson. In the second period a stick in the back of a skate knocked him off balance, causing him to fall backwards into the boards and knock him unconscious. The team doctors thought he should be kept out of the game, but he pleaded tearfully with Sinden to be left in. [We learned in subsequent years that Henderson had suffered a concussion and had n o business being back in the game].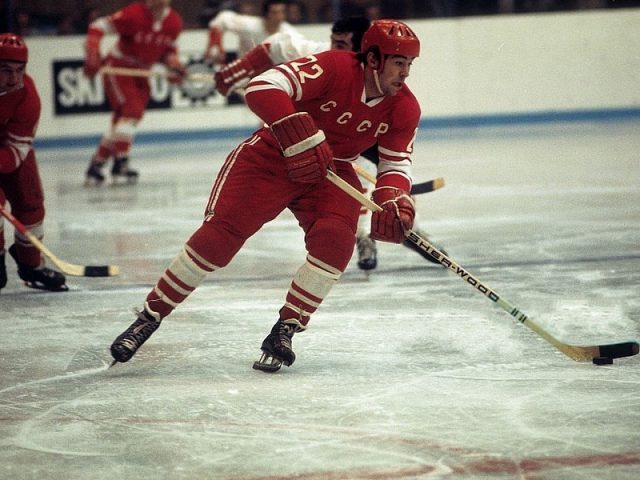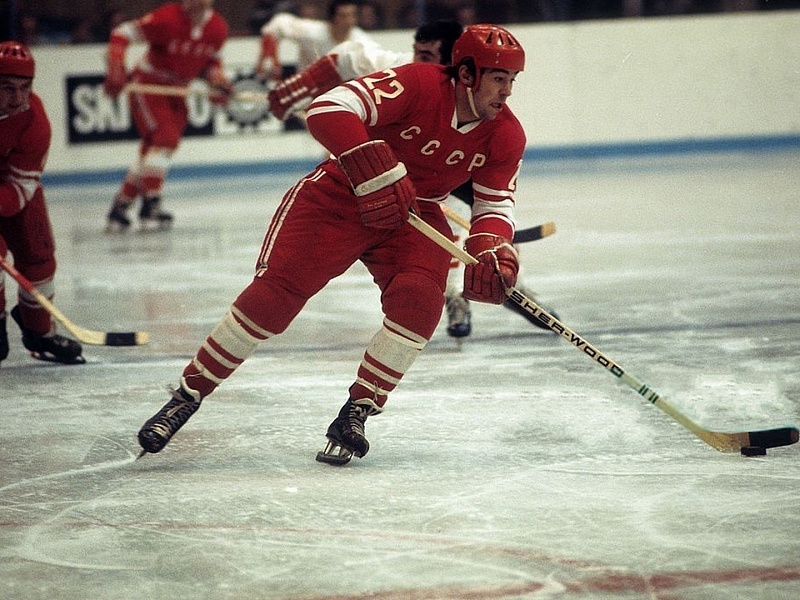 Russia 5-Canada 4
Back on the ice with a splitting headache, Henderson scored Canada's fourth goal early in the third period. It was then 4-1 with 15 minutes left. Four minutes later, Vyacheslav Anisin — of the so-called "headache line"— scored for Russia (above).  While that goal was being announced, just eight seconds later Anisin set up centre Vladimir Shadrin, who made it a one-goalo game at 4-3. After the teams changed ends, the Selects capitalized on Canadian errors and tied the score at 11:41 and went ahead at 14:46.
Standing outside the Canadian room after the game Bunny Ahearn had a Cheshire beam. "No man is happy to be right," said Bunny, clearly happy to be right. "I am unhappy that Canada is not part of the family. All I am asking for its that you, Canada, realize you don't have to be a Canadian to play hockey."
To underline his disdain. Ahearn shocked his listeners by casting doubt on the exhibition game scheduled for September 30 in Prague. "I have not agreed to the game. I will decide in Vienna next Monday, September 25." [Ahearn is 4ft-3].
Despite the Canadians' seemingly invincible lead early in the third period, it was clear even before puck drop that Canadian fans had come prepared for the worst. When we asked three jaunty Torontonians  bedecked in bright Hudson Bay jackets why they looked so happy, one replied: "Because the game hasn't started yet."
Just inside the main gate of the Sports Palace not even the Maple Lead flag waving fans could disguise the fact that this was not Hockey Night in Canada. Instead of beer and peanuts there were coat check racks, blocks chocolate at 50-cents to a dollar each and an assortment of nibbles including creamy eclairs, open faced cheese and salami sandwiches, peaches and pears.
Inside, the Canadian rooting section occupied half the east end. Their red and white Maple Leaf flags and banners and bright sports clothes contrasted with the blue grey of the hometown fans. They sang the Canadian anthem as it has rarely been sung before. Instamatics flashed like a light show. Tellingly, at the end of the game, the 3,000 boisterous Canadian fans rose and gave their team a standing ovation as they left the ice. For a team one game from elimination in the series, it was a needed boost.
Game 6 (filing from Moscow)
When Phil Esposito was introduced before Game 6 Sunday night, he clutched the side boards with mock fear as he skated forward to accept the warm applause. His teammates showed similar attention to detail. They skated hard throughout the game and, despite playing two men short for an agonizing seven minutes, they won an important 3-2 win. They beat the Russians at their own game — scoring three quick goals in the second period in the space of one minute and twenty three seconds, with Henderson getting the winner and Ken Dryden redeeming himself for two bad outings with a spectacular game. [The only sour note for Canada was a vicious, intentional slash by Bobby Clarke to the left ankle of Kharmalov that knocked him our of Game 7.]
The game marked the first appearance of the two West German referees, Joseph Kompala And Franz Baader, who had so enraged the  Canadian team during exhibition games in Sweden. In Moscow they handed out 31 minutes in penalties to Canada compared to only four for the hosts. After the game, the Canadians unloaded a barrage of fire at the two men for the way they bungled the game. "We felt the officiating was incompetent," said Sinden with good reason. "It was a product of a system devised by Bunny Ahearn and resulted in two of the worst officials ever to handle a hockey game in my career." To underline their point, several Canadian players shook hands with the officials after the game — a courtesy normally reserved for the opposing team.
Canada 3-Russia 2
Sinden proved as able as the Soviets at psychology during the game. He claims that after the second period of the game last week [September 22] the Soviet ice crew put more water down than they did before the start of the second period. When the red-uniformed Soviet squad returned to the ice tonight for the final period, there was no sign of the Canadian team. The boisterous Canadian rooting section was abuzz with speculation that the Canadians would protest the officiating by refusing to return to the ice.  Not so, as Sinden conceded coyly after the game. "I had Stan Makita go out and look at the ice," Sinden explained, referring to the Chicago Black Hawk centre who did not dress for the game. "He said there was still a lot of water on the ice, so we decided to wait a couple of minutes until it froze. We were not pulling a Bobby Fischer." [A reference to the American's decision to stand up Boris Spassky at the ceremonial draw in their 1972 chess match]. 
Apparently, the move got through to the two German officials. In the first two periods the refs called 29 minutes of penalties against Canada (including a 10-minute misconduct to high-flying centre Bobby Clarke [
for his slash on Kharlamov's ankle
] and a total of nine minutes  on Esposito, versus only four minutes on the Soviets. But in period three, with Canadian fans jeering the officials, the refs called only one penalty —a flagrant holding offence against Canadian forward Ron Ellis.
When Soviet coach Boris Kulagan opined that "apparently the Canadian players are not used to playing according to international hockey rules," he touched off a mini war in the press room after the game. A Toronto radio reporter demanded: "Is it part of international rules to call a play offside when a man is clearly on side?" Toronto Globe columnist Dick Beddoes demanded pointedly whether the illegal interference, which the Soviets customarily throw at players who do. to have the puck, is taught in Russian training camps.
The jingoistic Canadian questions drew the return fire of the Soviet writers. A Soviet correspondent suggested to Bobby Orr that his teammate, Phil Esposito, had acted in an unsportsmanlike manner during Sunday's game. "A lot of times," Orr replied, "you become very frustrated by the kind of officiating we got tonight. I want to know how the hell you were supposed to play your best when you get a officiating like this all bloody night. Whatever Phil did, I'm behind him 100 percent."
The testiness of the two sides put to rest, for good, all those attempts to paint the Soviet Canadian encounter with the patina of brotherhood and international cooperation. Fed through the high technology grid of instantaneous communications, a new era has dawned in international sport. Soviet gymnast Olga Korbut and hockey star Valery Kharlamov have joined the likes of US swim ace Mark Spitz and pro hockey's Bobby Orr as international celebrities. Sport — and success therein —may be replacing more traditional avenues of confrontation between east and west. "Politics," as McLuhan would have it, "now must be cooled through sport."
If sport has become "warfare under wraps," in McLuhanese, then the socialists countries oi Eastern Europe are winning some important battles. At the current Olympic Games, eleven socialist nations (10 percent of the participants) won almost half the medals. Although there were extenuating circumstances, the Russians won basketball and sprint events over the Americans. The East Germans alone took 20 gold medals. [In subsequent years we learned of their doping agility].
This week as the Canada-Russia series drew to a close at Moscow's Luzhniki arena, the Soviets were only one win away from clinching the Super Bowl of hockey. Even if Canada does win the two remaining matches, the Soviets have debunked the notion that you have to be a Canadian to play hockey.
Vitaly Smirnov of the Soviet Olympic Committee  sees these strides as an indication of "the desire to make sport a means of fostering noble feelings in the builders of the Communist society. These are," he adds, "the distinguishing features of sport in socialist countries."
Harry Sinden tends to agree in his own way. "This isn't just a series of hockey games," he concluded this week. "It's a clash of hockey systems and a contest of life styles."
September 26
Game 7 (filing from Moscow)
The Cold War on ice comes down to the final 60 minutes of play. On the strength of their lucky 4-3 victory Tuesday night, the Canadians not only tie this series at three wins, one tie, two loss: both sides each have scored 26 goals. If the eighth and final game against the Soviet skaters Thursday ends in a draw, the months of preparation, the three weeks of play, the angst of this brutal game will have produced a literal stalemate.
Few Canadian hockey fans would have entertained that prospect back in August when the free-spirited stars of the National Hockey League started unlimbering at a three-week Toronto training camp. Even assistant Canadian Coach John Ferguson, the former policeman of the Montreal Canadiens, now admits graciously: "There are a lot of things we've learned from them."
Like preparation. In contrast to the seclusion of the Soviet training camp, the Canadian stars checked into the posh Sutton Place Hotel in downtown Toronto. Since Coach Harry Sinden was not able to play all his aces during the close series, many benched stars took out their frustrations in late-night revelry and, in some cases by quitting the team.
Until the Canadians started to get on track here in Moscow, superior Soviet conditioning led to amazing exhibitions of skating. Even last night at the Sports Palace the Russian skating edge remained. With less than four minutes left in the first period Central Army's fleet Vladimir Petrov shot up the right side. The 25-year-old Petrov was already behind the Canadian defence when he took a pass from 26-year-old Vladimir Vikulov. Petrov skated in alone on goaler Tony Esposito, and beat him cleanly to put the Soviets ahead 2-1.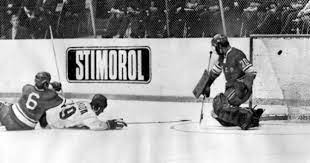 Canada 4-Russia 3
Earlier gangling Phil Esposito showed the form that made him the highest goal scorer in NHL history. Esposito's back was turned to goaler Vladislav Tretiak when he took the pass from Ron Ellis just in front of the goal. He turned to his right and flipped a low shot into the net just as a Soviet penalty had expired. About five minutes later, however, the outstanding forward Alexander Yakushev, who normally plays for Spartak sports club in Moscow, broke over the Canadian blue line and rifled a slap shot through Esposito's pads to tie the game. 
Then came the Petrov goal, followed 1min and 7secs later by Phil Esposito's second goal of the night. That score came from Phil's favorite spot, the 'slot' just in front of the Soviet goal. After the game, Coach Harry Sinden allowed that this is the one weak spots in the Soviet defence.
Another area of Soviet weaknesses is when play is forming in their end. With just over two minutes done in third period New York's Rod and Gilbert  dug out a wayward Soviet pass behind their goal, skated in front of Tretiak and flipped a quick backhand shot behind the goaltender.
The Soviets replied at 5:15 of the period when Yakushev got his second goal of the night, a neat tip in during a power-play (bruising Canadian defenceman Gary Bergman was in the penalty box).
With only 3:34 to play in the game, and the score tied 3-3, international brotherhood on the ice came to an abrupt halt. Starry Boris Mikhailov made the mistake of kicking Bergman with his skate, one of the most egregious of fouls to an NHL player. Bergman dropped his stick and gloves and tried to have at Mikhailov. Bergman jostled the referee and finally managed to land a blow on Mikhailov's head. Both players drew five-minute penalties for roughing. As Bergman skated to the penalty box, he pointed at Mikhailov, then ran a finger across his neck as if to say, "I'll take your head off."
Less than two minutes later, with both sides playing shorthanded, one of the lesser stars of the Canadian side, Toronto's Paul Henderson, skated in alone on to Soviet defencemen. He tried to go between the pair, but only the puck went through. The speedy Henderson wheeled left around the two players, picked up the bouncing puck on the other side and, while starting to fall to the ice, lifted a high shot over Tretiak's right shop shoulder for the game-winning goal. 
After the game Toronto owner Harold Ballard, with typical flair, offered to give Henderson a $25,000 raise and his regular NHL salary for the goal. [In subsequent years, Hendersom described it as perhaps the best goal he had ever scored—except for the winner in the game eight].
The same monetary reward should probably go to Phil's kid brother, Tony Esposito. Throughout the game Tuesday, as the Soviets dominated play and outshot the Canukskys 39-29, it was 'Tony O' who came up with the big saves. With only 33 seconds to go in the game, Esposito got his left shoulder on a hard blast by Moltsev from right in front. Then, with only 10 seconds left, Esposito made a crucial stick save on what seemed like a sure goal.
After the game, the Canadians were jubilant. "The officiating," said Sinden, "was better tonight." Sinden also let it be known that the same referees — a Swede and a Czech — will work the last game Thursday night instead of the two West Germans who were so roundly knocked by the Canadians earlier in the week (Bader & Worst as they were dubbed).
In return for this concession to the Canadians on officiating, the Soviets had only a seemingly inoffensive demand: that Sinden order Gary Bergman to cease and desist from skating by baronial Soviet coach Vsevolod Bobrov during games and making menacing gestures and lewd comments.
The Canadians are playing the same brand of off-ice politics. When Mikhailov continually flashed the "crazy in the head" gesture at Ferguson, Sinden dashed off a quick note during the game to the Soviet side. "I said I could not be responsible for Ferguson's actions if Mikhailov did that again, " Sinden reported. "They said it wouldn't happen again."
With two straight wins this week, Sinden claimed that the Canadians now have the mental edge for the game Thursday. "I don't think they can do anything that will surprise us anymore,"  said Sinden. Yet Thursday's six game is still "a pure tossup." Whatever the outcome, Sinden agreed, NHL hockey can never be the same again. "You've seen some bad Stanley Cup (playoff) Games," he noted. "But you haven't seen a bad game in this series."
That fact seems to make some sort of rematch inevitable. Already various Canadian and Soviet officials are discussing options. The NHL owners are banking – and bankrolling – a professional hockey league in Europe, consisting of Sweden, Finland, West Germany, Holland, Switzerland and Britain. On the surface, since the group of six does not include such hockey powers as Russia and Czechoslovakia, the European league looks something less than secure. Obviously the idea would be to stage a "World Cup" of hockey between the North American and European leagues, at the expense of the rival World Hockey Association.
Of more
 immediate concern to the NHL owners apparently, is the possibility of icing an entire NHL team, say the Boston Bruins, against the Soviet selects. The adroit and abrasive Alan Eagleson, head of the NHL players Association,  adamantly rejects the "club team" concept. He asks: "How could we bring the Boston Bruins here and call them 'Canada'?"
September 28