So Much For Our Eight Game Streak
Game 1-(Montreal) During one of the commercial breaks tonight in the Canada-Russia game, the organist played I'm Dreaming of a White Christmas. Just about that time, the Canadian team must have wished it was mid-winter. Clearly they were not skating at the form they usually are around December.
"We got beaten," coach Sinden noted after the game, "by a much better hockey team." What surprised most people about the Russians were some great individual playmaking and goaltending.
Too often Canadian defenceman sprawled on the ice to block shots that never came. Even goalie Ken Dryden, who's more accustomed to the Russian propensity to pass rather than shoot, was 'deked' out of position on a couple of goals.
As for goaltending, well along with individual play, that was supposed to be a plus for Canada. Not tonight. Vladislav Tretiak made at least nine (as I counted them) steals off point blank shots: three by Frank Mahavolich, two by Esposito, one by Peter Mahavolich, one by Lapointe and — most surprisingly — two against the Canadian power play.
"We didn't shoot enough," moaned Phil Esposito, referring to the 34 shots the Canadians fired (vs. 30 for the Russians).
What was working for the Russians, clearly, was their superior conditioning and their poise. Many experts had warned that the Canadians might find it difficult to make the adjustment to international hockey. Brian Glennie, who knows from personal experience as a former player for the national team, explained after the game: "Until you've played for your country, you don't realize that you can 'get up' too much."
As a result, the Canadians had a tendency to want to do too much — by trying to be in too many places on the same shift, and by trying to hit everything that moved in a white jersey. But, as Sinden noted, "they take body checks real well. They're bigger than you think they are. You can't hit them just by running around."
As expected the Russians tried to play the game flat out. Sinden anticipated this, but notes: "I really didn't expect them to skate so easily for the full 60 minutes. Unless we play excellent hockey it will be life and death to win any of the games." Conceding he would have liked to see more shooting from Cournoyer and that he was disappointed with the Ratelle line ("they didn't skate at all"), Sinden added: "We'll make some changes." It is probably a safe bet that the likes of Stan Mikita and Dennis Hull, who didn't play tonight, will see action in Toronto).
I was stunned by how well they played.

Harry Sinden
It was a point underscored graciously by Russian coach Boris Kulagin: "We realized that not all the best players, like Mikita, Stapleton and White, were in the game."
Says Sinden: "I was stunned by how well they played at times." Toronto Sun columnist Jim Coleman agreed, adding that this Russian team is "10 goals better" than when he last saw them at the World Championships. In some ways, as we've already noted, it was easier for the Russians to be poised tonight: they had nothing to lose. But no one expected them to win 7-3. The Canadians were just not prepared for the exciting play of the likes of Valeri Kharlamov (two goals, including the winner, and named the Russian star of the game), Alexander Maltsev (two assists and several stiff body checks), Eugeny Zimin (two goals) and Alexander Yakushev (a goal and two assists ). "They wouldn't let us stop to regroup," said Don Awrey. Added Phil Esposito: "I was really surprised by the goaler. He stoned me as well as anyone has. Their ability to stickhandle surprised me. They're a really good hockey team."
How about their defence, Esposito was asked: "That's hard to say because I was never down in their zone it seemed."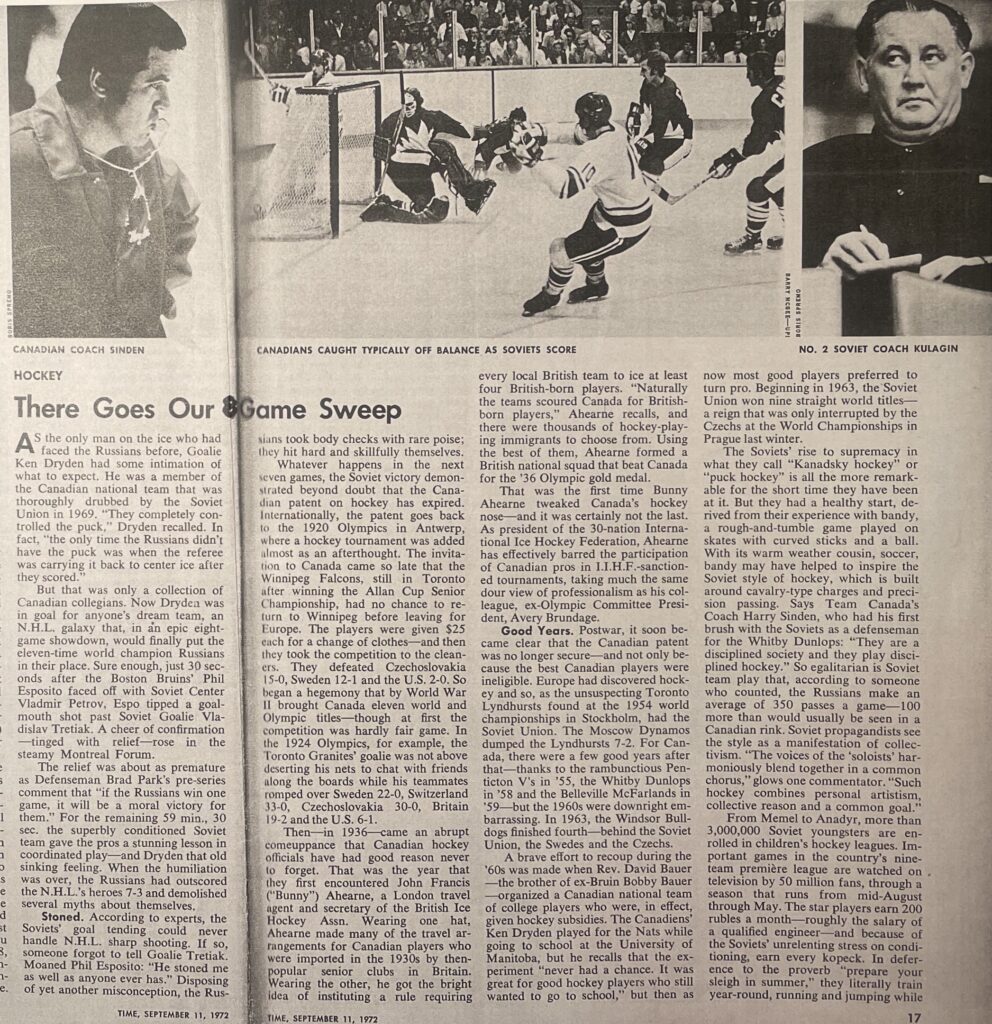 Dryden, for his part, underlined the tension experienced by the Canadians, as Lloyd Percival and others had predicted. "We played a panic kind of game," said Dryden. "We'd be behind, then we'd have three men on the park." Even Mr. Cool, Phil Esposito, conceded he faced a new kind of pressure tonight: "This is probably the first time in my life that I was really nervous."
As for Eagleson, well he was eating crow tonight. He had predicted that the Canadians would win all eight games. Tonight he had a weak reply: "Now we have to win seven to one." Eagleson, with prodding, added: "Sure it's a moral victory for them."
It was vindication too, one might say, for the way the Soviets have always approached hockey. They didn't ice an international competitor, for example, until they must have known they could win (which they did in their first world championship in 1954.) Presumably the Russians were equally confident about their match with the pros. My feeling is that they were sure the pros wouldn't take them to the cleaners and, on the basis of tonight, they were probably right.
The Russians also seem to outclass the Canadians in sportsmanship. When the Soviets lined up at their blue line for the traditional post–game salute, all but three or four Canadians were in the dressing room. Sinden made an effort to get his team back on the ice, but it was too late. The Russians had left the ice by then, with the crowd booing the Canadians. Sinden claims the Canadians we're not told about the traditional salute and and apologized publicly to the Russians. "It won't happen again," said Sinden.
Presumably, Sinden meant the outcome of the game too.
[Now, on to Toronto].