Canada is One Game From Defeat
September 22 Luzhniki Sports Palace (filing from Moscow)
Phil Esposito's spill at centre ice during the pre-game ceremony surely was an omen, even if he ended with a gracious bow to the laughing fans. True to form, "Team Fade" fell on its collective face when the Russians, trailing 4-1 with only 11 minutes left in the game, scored four goals within a six minute period to win 5-4. With party chief Leonid Brezhnev and Premier Alexei Kosygin looking on — and looking down at the Catelli pasta ads on the ringside boards — the Canadians sometimes skated as though they had eaten too much of Phil Esposito's spaghetti.
It was fully eight minutes before Canada got on track and made their first serious attack on Tretiak. "The lack of conditioning was obvious," said Sinden after the game. What was less obvious was the peril of Paul Henderson. In the second period a stick in the back of a skate knocked him off balance, causing him to fall backwards into the boards and knock him unconscious. The team doctors thought he should be kept out of the game, but he pleaded tearfully with Sinden to be left in. [We learned in subsequent years that Henderson had suffered a concussion and had no business being back in the game].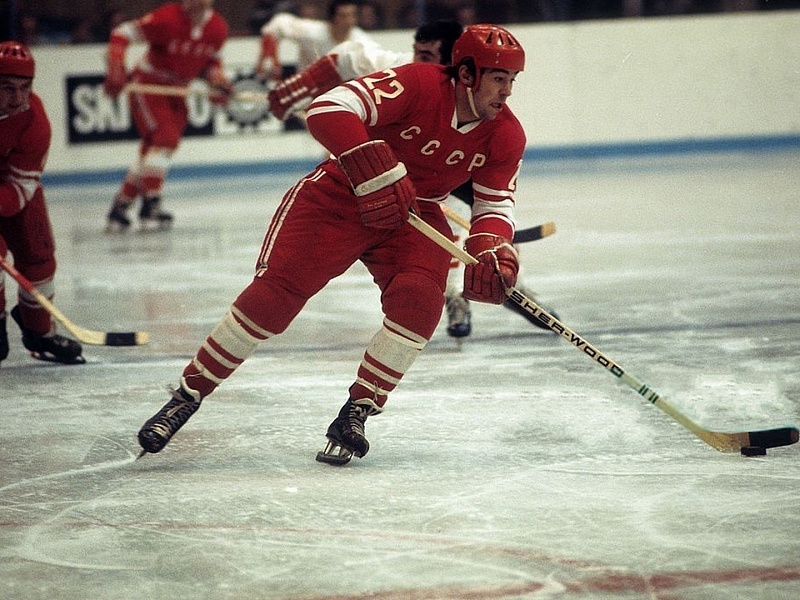 Back on the ice with a splitting headache, Henderson scored Canada's fourth goal early in the third period. It was then 4-1 with 15 minutes left. Four minutes later, Vyacheslav Anisin — of the so-called "headache line"— scored for Russia. While that goal was being announced, just eight seconds later Anisin set up centre Vladimir Shadrin, who made it a one-goal game at 4-3. After the teams changed ends, the Selects capitalized on Canadian errors and tied the score at 11:41 and went ahead at 14:46.
Standing outside the Canadian room after the game, IIHF head Bunny Ahearne had a Cheshire beam. "No man is happy to be right," said Bunny, clearly happy to be right. "I am unhappy that Canada is not part of the family. All I am asking for its that you, Canada, realize you don't have to be a Canadian to play hockey." To underline his disdain, Ahearne shocked his listeners by casting doubt on the exhibition game scheduled for September 30 in Prague. "I have not agreed to the game. I will decide in Vienna next Monday, September 25."
Despite the Canadians' seemingly invincible lead early in the third period, it was clear even before puck drop that Canadian fans had come prepared for the worst. When we asked three jaunty Torontonians bedecked in bright Hudson Bay jackets why they looked so happy, one replied: "Because the game hasn't started yet."
Just inside the main gate of the Sports Palace not even the fans waving the Maple Leaf flag could disguise the fact that this was not a scene from Hockey Night in Canada. Instead of beer and peanuts there were coat check racks, blocks of chocolate at fifty cents each and an assortment of nibbles, including creamy eclairs, open faced cheese and salami sandwiches, peaches and pears.
Inside, the Canadian rooting section occupied half the east end. Their red and white Maple Leaf flags and banners and bright sports clothes contrasted with the blue grey of the hometown fans. They sang the Canadian anthem as it has rarely been sung before. Instamatics flashed like a light show. Tellingly, at the end of the game, the 3,000 boisterous Canadian fans rose and gave their team a standing ovation as they left the ice. For a team one game from elimination in the series, it was a needed boost.